Sport is no longer just play. With the advancement in our technologies, our sports too are getting high tech. You may notice some of these technologies while watching the live telecast of any major sporting event. But I'm sure, there are a lot of other highly specialized technological innovations that now aid our sport stars and organizers of gaming events.
One such major gaming event started from today. The ICC Champions Trophy 2017 . Here are some of the new technologies by Intel (Official Innovation Partner of the ICC Champions Trophy 2017) that are going to be used in this tournament.
New Intel technologies to be used at ICC Champions Trophy 2017
Drones:
The ICC Champions Trophy 2017 will have the Intel® Falcon™ 8 Drone monitoring the pitch. These drones are equipped with HD and infrared cameras. They can provide advanced pitch analysis before every match. The Images captured by these specialized drones will offer rich visual data on pitch conditions like grass health, grass cover, topology etc. The information thus generated can then be used by commentators during broadcasts for delivering more accurate reports about the pitch condition.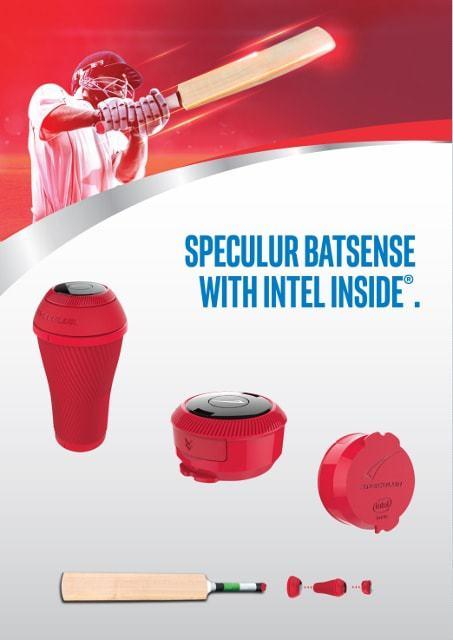 Speculur BatSense:
Speculur BatSense are the latest sensors by Intel that can be mounted on any cricket bat to general useful data about every bat stroke. These sensors are equipped with Intel Curie technology and can quickly generate reports about parameters like back-lift, bat speed and follow-through for every bat stroke.
Talking about these new sensors, Speculur Managing Director Atul Srivastava said, "Speculur BatSense with Intel Inside has the potential to transform cricket across a varied audience from coaches to aspiring self-taught cricketers." "Coaches can use their insights and expertise along with the bat sensor data to make specific adjustments to a batsman's technique ultimately helping him perform better," Srivastava added.
As of now, these sensors will be used by several cricketers in the Champions Trophy. Speculur plans to bring this technology to market later in the year. Once available in the market, this new technology can prove useful for the aspiring cricketers to measure, track and improve their batting skills. The Speculur BatSense sensors with Intel Inside are expected to start being available in Australia, India, USA and the UK in the second half of 2017.
Virtual Reality:
If you are going to witness the Champions Trophy matches in The Oval or Edgbaston stadiums, you can take advantage of the VR experience that will be offered there by Intel for the cricket fans. Intel is going to create Virtual Reality (VR) experience zones at the above mentioned stadiums. People at the stadium can visit these zones and have fun playing cricket in an immersive virtual cricketing environment. Using a head mounted display (HMD), people will be able to bat against a virtual bowler. As this VR Game also uses the Intel Curie technology, players will also be able to see data from their virtual bat swing. This generated data will include information like the bat speed, back-lift angle and of course, the simulated score from the VR session.
Talking about all these technologies presented by Intel in a recently held event, former English Captain turned commentator, Nasser Hussain said that technology has and will continue to positively impact cricket in a lot of ways. He added that player performance, game strategy, and fan experiences are all set to change as newer technological innovations get introduced in the sports field