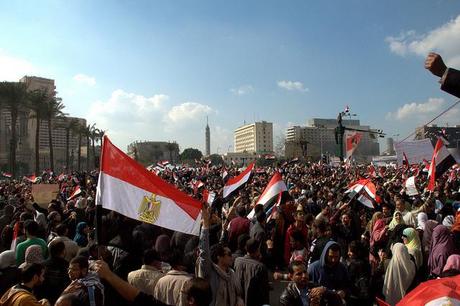 Masses of people in Cairo's Tahrir Square during the protests earlier this year. Can private sector experiences with improved governance provide reformers a roadmap to meet protesters' demands? (Photo: Flickr user YaZzZz)
Calling all Middle Eastern reformers! Download and share your copy of CIPE's newly launched publication, Advancing Corporate Governance in the Middle East and North Africa: Stories and Solutions. Take cues from these models of good corporate governance and deduce the benefits that politically-inclined good governance could reap for your state!
For instance, when reading this lesson learned, substitute "government/state" for "company/corporation," as well as "officials" for "employees," and…well you get the idea:
"The company's state's transparent practices have attracted high-caliber employees officials, which the vice chairman president emphasizes is a main factor contributing to the company's state's success. Employees Officials are fairly compensated according to corporate government policy, and are clearly informed of the paths for advancement within the company government. The corporation government is structured so that, even though the company state is family-founded owned and managed, any capable person can move up the ranks, even to the level of CEO president."
Diagnose the common ailments of your state administration. Such as,
"For family-founded businesses states…the board legislature sometimes acts only as a formality. In this structure, boards legislatures tend not to operate in a strategic manner but rather perform functions according to what is legally stipulated by law, such as approving financial documents. Board Cabinet meetings tend to be infrequent and short, occurring perhaps one or two times a year. It is common to find the board cabinet comprised strictly of family members, or occasionally close friends who are accomplished in their careers and trusted by the family. Those on the board cabinet also tend to be employed in positions of top management in the company administration as well as being owners stakeholders."
What can corporate governance do to correct this imbalance? Try these changes:
"In order to function effectively and provide strategic guidance for the company state, the board legislature and cabinet must be comprised of people with the right know-how and independence of judgment to guide senior management decision-makers. This often means that the board legislature and cabinet need to expand beyond family members and bring on independent directors representatives."
Ultimately, CIPE's guide notes that,
"Many family-run businesses states never consider having a non-family CEO president."
But as one case highlights, a company state is most successful when,
"The CEO president does not exercise corporate power unilaterally, but rather executes the wishes of a well-functioning board legislature, which, in turn, represents shareholders citizens. As a number of family-founded businesses governments have discovered, it can be better if the CEO president is not a family member, particularly in the second and third generations and beyond. An effective CEO president may be found within the family, but seeking a CEO president from outside the family can widen the available talent pool, as well as minimize or prevent friction between various parts of the family….Family members can, in the absence of specific policies outlining performance expectations, take their positions for granted and fail to exert maximum effort."
How can your country obviate head of state succession crises?
"The idea of a family state constitution…can help family-founded owned businesses states navigate these challenges by…setting up mechanisms to transition."