notloB Folk Concerts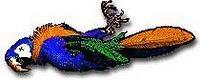 presents.....
CHASING BLUE & JOE'S TRUCK STOP
Friday, March 4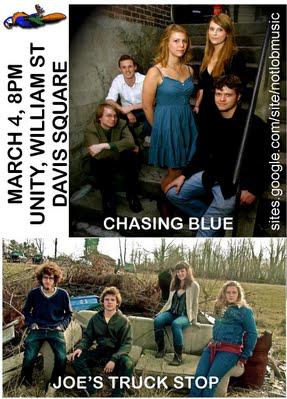 Fresh from their main stage appearance at the Joe Val Bluegrass Festival, notloB Folk Concerts is pleased to welcome Chasing Blue
 to Unity Somerville in Davis Square on Friday, March 4, 2011.
  Co-featuring will be Joe's Truck Stop.
CHASING BLUE
http://chasingblueband.com/
http://www.facebook.com/pages/Chasing-Blue/295779833380
http://www.myspace.com/chasingblueband
Chasing Blue is plays a mix of original and traditional bluegrass material with unique arrangements and hard-driving style. Original material holds true to the bluegrass tradition but strong lyrical ideas and progressive musical ideas make the Chasing Blue sound.
Members of Chasing Blue met at Berklee College of Music in Boston in 2008. Chasing Blue has since toured to Washington DC, Atlantic Canada, Nashville, Texas, and released two EPs.
Suzanne Oleson
-Mandolin, Vocals. Born and raised in Austin, Texas, Suzanne now attends Berklee College of Music where she majors in Professional Music with an emphasis on songwriting. Suzy began playing the mandolin at the age of 12. Suzy has performed with the California Guitar Trio, Terri Hendrix, Lloyd Maines, Billy Bright, the Two High String Band, The Greencards, and Erik Hokkanen. Suzy opened and performed with Bert Lams of the California Guitar Trio and Tom Griesgraber of Agent 22 in the summer of 2009, and will be featured on their upcoming CD where she will be playing guitar on her original composition.
Maggie MacKay
-Banjo.Maggie is the first female principle banjo player to graduate from Berklee College of Music with a degree in Professional Music with an emphasis on songwriting and performing. A Nova Scotia native, now residing in Boston, Maggie fuses her maritime influences with blues, rock, and traditional bluegrass. She has released a short EP produced by Special Consensus' Ryan Roberts and is currently recording a full-length solo album of original tunes featuring Ron Stewart, Steve Thomas, Shad Cobb, and David Thomas.
Mike Reese-Guitar
, Vocals. Michael Reese was born and raised in Cincinnati, Ohio where he learn the bluegrass tradition from his father and mother " Larry and Cindy Reese". At fourteen he was excepted into the School for Creative and Performing Arts were he studied jazz guitar, and orchestral percussion. Michael and his parents, started a family bluegrass band called "NewClover", where Mike played the 5 string banjo. Mike donated his time and talents along with his family to play at The Clovernook Center for the blind and Visually Impaired in Cincinnati, as well as Miami White Water Senior Center. Mike recorded and produced two bluegrass albums over a three year period.
Alex Muri
-bass. Alex hails from Sudbury, MA and began playing bass at the age of six when he started studying classical music with his school orchestra. He now attends Berklee College of Music where he is studying jazz, celtic, and bluegrass styles and is pursuing a degree in Music Therapy.


JOE'S TRUCK STOP
http://www.facebook.com/pages/Joes-Truck-Stop
"Conceived at a greasy spoon...we play the kind of music that makes you wanna cut a rug.."
Joe's Truck Stop officially formed this summer when four students of Berklee College of Music spent the summer traveling up and down the east coast, attending oldtime stringband conventions and bluegrass festivals. At the last festival of the summer, the 75th Anniversary Galax Old Fiddlers Convention, Joe's Truck Stop placed in the top 15 oldtime stringbands, a huge honor in the world of traditional music. Having received this accepting nod from the elders of the community who mentored the band, Joe's Truck Stop now presents to you their years of dedication to Appalachian culture through their raucous, fast-paced, up-tempo dance music that will make you want to throw on your dancing boots and make you wish you were down home again!


Doors 7:30, Concert 8:00.
Suggested donation $10, $6 students.
notloB Folk Concerts are volunteer run and not for profit. Anyone interested in volunteering is encouraged to send an email to notlobreservations at gmail dot com
Website ~ http://sites.google.com/site/notlobmusic
Facebook ~ http://www.facebook.com/notloBFolkConcerts
Mail list ~ http://groups.google.com/group/notlobmusic