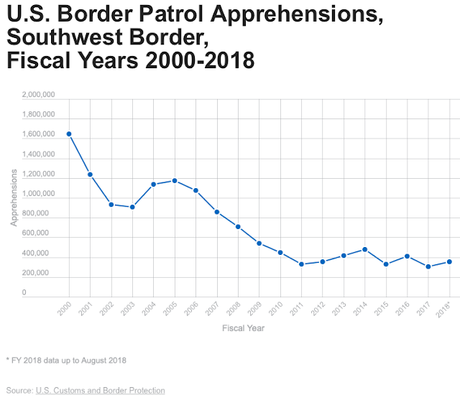 Donald Trump has tried to convince Americans that they need to fear immigration, especially immigration coming from Mexico, Central and South America. He would have people believe that hordes of immigrants are flooding across our Southern border, and because of that, we need to build a wall on that border.
To be blunt, that is simply a LIE! As the chart above (from the U.S. Customs and Border Protection) shows, border apprehensions have been at their lowest level for the last couple of years -- even though there are more officers assigned to the border. Apprehensions are indicative of how many people are trying to cross the border, which means Trump is not telling the truth about undocumented immigrants flooding our country.
And it's not just that Trump is lying. His administration has been incompetent and cruel in how they deal with immigrants. By refusing to appoint enough immigration judges, Trump has seen the backlog of cases before the immigration courts rise sharply (and is far larger that any year of the Obama administration). That's incompetence, and so is the fact that there have been less deportations than in the past since Trump became president.
Then we come to the cruelty. The Trump administration intentionally separated children from their parents at the border and held them in detention centers. There are still 2,654 children being held in detention centers separated from their parents --and 103 of them are under 5 years old.
Trump had promised to fix our immigration system. So far, he has just made it worse!