Stunning, classic Swiss-made watches crafted with unique design and high quality materials, introducing Charriol watches, a fine designer timepiece collection for any occasion.
Charriol watches was established in 1983 and have managed to build a successful brand amongst a highly saturated Swiss watch market. The recipe for Charriol watch success has been simple – use high quality materials, combined with beautiful unique design and moderately price the watches.
If you're looking for a truly unique watch, that will suit any occasion, stand the test of time and attract a lot of compliments from your friends, you should definitely consider a Charriol for your next watch purchase.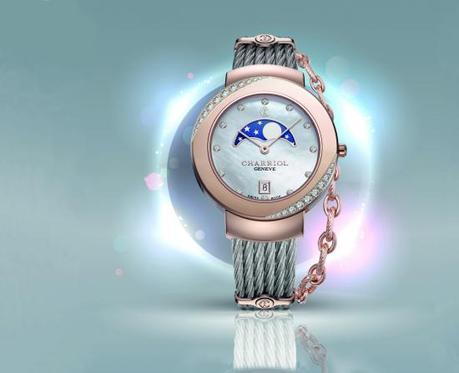 High Quality Materials
Charriol watches are built with stainless steel, gold and quality ceramics. The quality of the watches are not compromised, they are designed to stand the test of time.
The stunning watch face is protected by a scratch resistant sapphire surface and is waterproof up to about 30 meters – I wouldn't recommend taking these watches diving however a dip in a non chlorinated pool, or taking a shower shouldn't pose any damage the watch.
Being a Swiss-made timepiece, you should expect to see the life of your Charriol watch last quite a long time providing you ensure proper care and maintenance. A routine clean, service and battery change will go well in the way of safeguarding your Charriol.

Styling
Charriol / Cable Jewelry kept contemporary classic in mind when designing their collection and coupled this with a modern edge, if you're in the market for a classy timepiece to accompany you on a night out then Charriol may be the perfect brand for you.
Charriol haven't spared on the diamonds, gold or silver when designing their watches, meaning that a Charriol watch is perfect for formal occasions as well as everyday wear. There's never a bad time for diamonds, right? Diamonds even figure into their other accessories, including their collection of cable jewelry, which includes some beautiful rings.

The Charriol line also has a couple of sport models, so there's something here for everyone. The colors are also quite simple in style, usually combining black, silver and gold. The straps are available in leather, steel, gold or even rubber. Charriol similarly provides Cable Bangles for further wrist accessorizing.
Price
Bearing in mind that Charriol are a luxury Swiss brand, their prices are moderate to expensive, although they are competitively priced in their market.
A starting price can set you back about $1,000 USD with other models topping around $12,000 per piece. Occasionally Charriol will release a limited edition watch, which can set you back anywhere up to $103,000.
In Conclusion
Charriol are an emerging brand, and can only be found at certain retailers, giving them a bespoke place in the market. If you haven't heard of Charriol before, this is exactly what I mean, there's few people who know about Charriol making these striking watches truly unique.
If you're in the market for a stunning, high quality watch that will stand the test of time, look great on any occasion and be a cocktail party conversation starter, a Charriol watch might be the perfect timepiece for you.
FYI, I partnered with the brand to write this article but every word is mine!