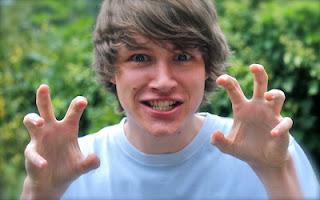 Many of us wonder throughout the internet in search of people who will inspire us to make big things happen without realizing that such people were under our noses the entire time. After giving some thought to it we'll come to realize that such people are all around us, we just have to look very carefully as we might miss them sometimes. One of many things I can't live without is inspiration that later metamorphoses into motivation that is so vital for my life. It happens, although very rarely, that sometimes I stumble upon works of art that are able to make my day a nicer one, feel happier, a feeling that occurs so rare in my life lately. There are so many ways of showing what are we made of that we just have to choose one but for that we need to get to know ourselves better, one way of doing that is look closely at you like the most: numbers, letters, music, film, TV, science or so many other things. I believe that everyone of us can excel at the full extent of at least one thing.
With that being said I want to introduce you (for those who don't know him yet, although I believe there are very few) Charlie McDonnell - the wunderkind of YouTube. He is one of those people I've been talking about, he's a basket full of inspiration. If you want to be more positive, active, bald in actions, open for the new, open to other people he's the one to teach you that. Through his video you can learn a lot of things, beginning with music and ending with science, how much is in between only God knows. He is many things, boring is not one of them. He's original in every video you see him in, he's nothing if not likable. 
I invite you to watch one of his video and be struck by his awesomeness and what I can promise you is tat you'll smile for sure and also have the almost imponderable joy of  watching "Charlie is so cool like" which will make kinda cool. You'll get what I'm saying after watching at least one of his videos.
Staying on the subject of being inspired, as soon as I get my hands on a camera I'm going to try to make a video-article and turn my blog into a video-blog, jump from blogger to video-blogger. If you feel you have it don't hesitate to try that yourself. As soon as some ideas on this matter come to my mind I'm gonna update this article.
Don't hesitate to Subscribe to
his channel here
and trust me, it's worth it.