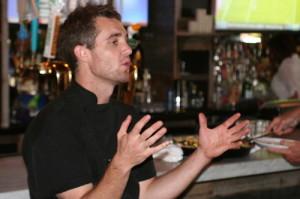 Chef Stephen Thompson
Charleston Culinary Tours is planning a Fresh at the Farm Dinner Series featuring Executive Chef Stephen Thompson of Prohibition, a new contemporary American gastro pub downtown. Setting the scene for a true farm to table experience, each dinner event will take place at a local farm. The gastronomic evening with start with a cocktail hour and hors d' oeuvres from 5:30-6:30pm and then family style dinner will be served from 6:30-8:30pm. The first dinner will be held on May 4th at Walters Farm in Saint George with additional dinners in the series in August and November. With a table set for 40 guests, the cost is $75/person with tickets available at www.charlestonculinarytours.com.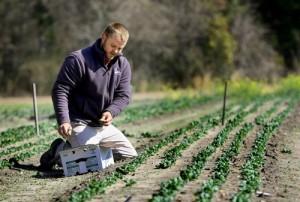 Farmer Steven Walter
Walters Farm is a fitting start to the Fresh at the Farm Dinner series as Chef Thompson and Stephen Walter, proprietor of Walters Farm, have been friends since childhood. Chef Thompson jokingly refers to Steven as "his personal farmer". Steven Walters personally grows and harvests everything on his 5-acre farm and then makes the 45-minute drive to deliver it to Chef Thompson. Both are excited about allowing guests to dine on ingredients right where they are produced, fortifying the connection between farm and food.
Charleston Culinary Tours combine the best of Charleston history, cocktails and food with unique tours that highlight the Lowcountry. Each Charleston Culinary Tour visits several different restaurants, bars or the Farmer's Market to combine elements of a historical tour with a culinary adventure. The food and drinks on the tours are chosen by various restaurant and bar partners and feature an array of eclectic dishes and concoctions that provide insight into Charleston's cuisine and cocktail scene. On each tour, guests will not only have an opportunity to sample some of the Lowcountry's finest offerings, but also to meet the owners, chefs and mixologists behind Charleston's impressive culinary and bar innovations.
For interviews, photos, press passes or sponsorship information, please contact Lorrie Dixson of Eskimo Advertising at [email protected]. For additional information about Charleston Culinary Tours, please visit www.charlestonculinarytours.com.

Lorrie Dixson (52 Posts)
Lorrie Dixson graduated from the University of Alabama with a B.A. in Communications before she moved to Atlanta and worked for CNN for 15 years. She is currently an entrepreneur who owns Eskimo Advertising, a full service boutique advertising and public relations agency. Her company combines targeted public relations and advertising with grassroots marketing, promotions and social marketing in order for her clients to receive great exposure in a cost effective manner. To connect, visit Eskimo Advertising's website. Please contact Lorrie at [email protected].