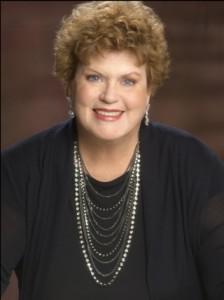 Charlaine Harris, the inspiration behind HBO's hit series True Blood, is currently on a press tour promoting her latest novel in the Sookie Stackhouse series, "Dead Reckoning", and she'll be the first to admit that life is pretty good right now. Much to her delight, the Sookie books are a huge success, the premiere of True Blood season 4 is a little over a month away (June 26 at 9PM), and she's dabbling in other projects to keep her busy. Oh, and this is all in addition to being a wife and mother. The best-selling author opened up to The Kansas City Star about the book series that made her famous:
"I love the characters, and I love working out what will happen to them next and the consequences in their futures. It's like being queen of a little universe… I admire Sookie's courage, and I sympathize with her attempts to figure out what the right thing to do will be."
Queen Charlaine Harris does have a nice ring to it. This actually has us wondering as to whether Harris will have a cameo on True Blood. Maybe not as a vampire queen, but certainly a patron of Merlotte's or a distant relative of Sookie's, or even more juicier, Sam Merlotte's aunt! Look at author Stephen King – he's had a cameo in every movie that has been adapted from one of his novels or stories. Makes perfect sense to us for Harris to follow suit!
As much as we'd love for Harris to write about our favorite telepathic waitress forever, the Sookie series will come to an end about two books from now, and Harris is staying very quiet about how she'll wrap things up (even though she already knows). However, one thing she did divulge was how she manages to keep a balance between her best-selling author world and her real-life world:
"I read mysteries, urban fantasy, sci-fi, everything. That keeps me sane. And I let my dogs in and out. That can be a full time job. They always want something. 'Scratch my head. Give me a treat. Put water in my bowl. Let me out. Let me in.' And then we start the cycle over. I like to cook, and my husband and I go to the movies, though not as often as we used to. Oh, I worry about my children. That's what moms do."
Harris will be at the Barnes & Noble at Town Center in Leawood, Kansas at 7PM on Thursday, May 12th to meet with fans and discuss "Dead Reckoning".
Source: The Kansas City Star - 'True Blood' author Charlaine Harris has a true passion
Featured Image: Todd Williamson, Wire Image
Article Photo Credit: Sigrid Estrada