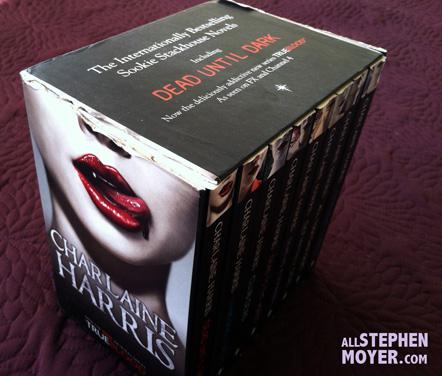 In support of the Stephen Moyer Kids Theatre Fund of Brentwood Theatre AllStephenMoyer.com and The Vault are auctioning off a unique box set of 8 Sookie Stackhouse books donated by Mark P. Reed, Administrator of Brentwood Theatre.
This box set of the first 8 books in the Southern Vampire Series of Charlaine Harris is a UK edition and is not available for sale in the USA.
All 8 books are signed on the cover by Charlaine Harris, Anna Paquin and Stephen Moyer and come with the original box wrapper that is signed by Charlaine Harris.
This signed set will make a wonderful addition to any True Blood fan collection and is especially interesting for book fans who would like to complete their book collection with UK editions of the Sookie Stackhouse publications.

Visit the auction listing and place your bid: http://r.ebay.com/8oqNpa
The auction ends on April 27.