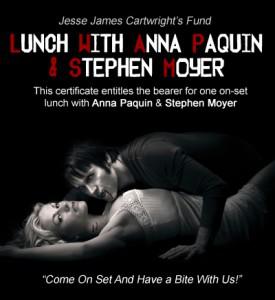 The fourth episode of season 4 of True Blood was dedicated to Jesse James Cartwright, a member of True Blood's transportation crew who lost his life earlier this year, and who was most beloved by every cast and crew member of the popular vampire drama. And because of that love, the True Blood staff, cast and fans are uniting to raise funds for Jesse's family.
AlexanderSkarsgard.net is holding an auction where fans can bid on the chance to visit the set of season 5 of True Blood, as well as have an on-set lunch date with Anna Paquin (Sookie Stackhouse) and Stephen Moyer (Bill Compton). Click here to place a bid (time's running out, Truebies – you've only got six days to place a bid).
But wait, there's more. Up next for auction will be the chance to win a lunch date with Kristin Bauer van Straten (vampire Pam) and Alexander Skarsgård (Eric Northman)!
100% of the proceeds from these auctions will benefit The Jesse James Cartwright Fund.
Source: AlexanderSkarsgard.net – Charity Auction: Visit The Set Of True Blood And Have Lunch With Anna Paquin And Stephen Moyer
Photo Credit: TV Crunch, AlexanderSkarsgard.net