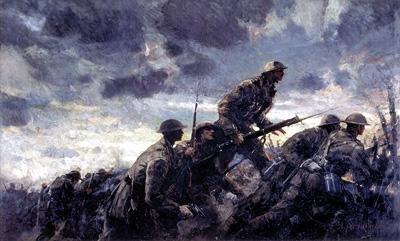 Ask any ten people what ingredients make up a good leader and most will tell you that it is charisma. Charisma may well be part of leadership make-up, but is it the whole story. Is charisma instinctive, inherited or learnt? Are successful leaders the best because they have charisma or are they charismatic because they are excellent leaders?
But it doesn't end there – well it may do. Charisma in leadership appears to be an ephemeral phenomena, with no great leaders being able to sustain charisma over long periods. Charisma, it would seem, definitely has a sell by date.
It appears that it is difficult to find the end of the piece of string in this debate and there doesn't seem to be any conclusive evidence to suggest one or the other, nor any real consensus on the question.
Is it an objective phenomena, seen in the same way by all?
A good leader can have blue eyes, and we can all see this, they may also have charisma, but we may not all experience it or feel it is the same way – perceptions differ immensely.
According to Max Weber, Charisma is the amorphous quality that translates your vision to others.
Hold on a minute, are we talking about communication here?
An effective leader from the team's point of view, may well be someone who is charismatic – but for the shareholders, this may be a secondary preoccupation, as long as results are reached.
We would also need to clearly understand the real meaning of charisma, as perceived by those claiming that their leader, indeed possesses charisma.
Is charisma a learned trait that can be copied?
Is it indeed a personality trait?
Some charismatic leaders just do not have a naturally charismatic personality, but they are able to adopt the traits that we often link to charisma.
According to a study co-authored by University of Tennessee, Knoxville, communications studies professor Kenneth Levine, until recently no one was able to describe and measure charisma in a systematic way.
The study, "Measuring Transformational and Charismatic Leadership: Why Isn't Charisma Measured?," appears in the December 2010 issue of the academic journal "Communication Monographs," published by the National Communication Association.
Levine said the large amount of academic literature on charismatic leadership never explored what it means to actually communicate charismatically.
Levine added. "But we found that if you want people to perceive you as charismatic, you need to display attributes such as empathy, good listening skills, eye contact, enthusiasm, self-confidence and skillful speaking," he said.
Those are the attributes social scientists can measure to more fully understand charismatic communication.
Take any example of leaders, in whatever capacity you like and I am sure you will agree that charisma – sometimes very akin to popularity – doesn't last forever.
Examples of great leaders from the 'man-in-the-street' will almost certainly include Churchill, who was subsequently defeated in a general election, or Napoleon and perhaps today Tony Blair or Obama. The latter two, regardless of any political affiliation, clearly portray charisma in bucketloads, but also rely, largely on spin generated to feed an image of a charismatic leader.
In the workplace, leadership is at an all time low – given the differences between management and leadership, many organisations are over-managed and under-led with their endless tiers of minor and middle management, each jostling to avoid any clear actions resembling any form of leadership, bound by internal politics and red tape – it seems that nobody wants to put their head above the parapet.
However, as most interpretations of leadership include ideas of creating vision and aligning people with business goals – my opinion, for what it is worth, is that this is only half of the picture.
Leadership is about sharing vision and the desire to take it forward, inspiring and motivating people and this, once again, in my opinion can only be undertaken by an exceptional communicator – communication is the key!
Communication, when it is good motivates, when it is excellent it changes things, inspires people, implicates, empowers and gets everyone moving in the direction of common goals and objectives – the leader then naturally exudes charisma.
Charisma is what occurs after the leader starts leading – there may be some leaders who are extremely talented but they don't get to be great leaders from square one – young, natural leaders are very thin on the ground.
The other side of the coin is that successful leaders are also generally brimming with self-confidence, bold, assertive, powerful and untiring – which, in terms of perception by others, makes them appear as charismatic. A-type personality traits such as these can also make it hard for a leader to admit mistakes or recognize weaknesses and errors of judgment – have a look through history to confirm this.
Successful leaders often fall prey to their own 'strengths' – great leaders have strong elements of empathy, great communication and are able to admit that they have got it wrong at some points – they are humble.
© 2011, ©Active Consultants 2011. All rights reserved. Copying in part or in entirety only permitted by written consent

Copyright protected by Digiprove © 2011
All Rights Reserved
Original content here is published under these license terms: X 
License Type:Commercial
License Summary:You may read the original content in the context in which it is published (at this web address). You may make other uses of the content only with the written permission of the author on payment of a fee.