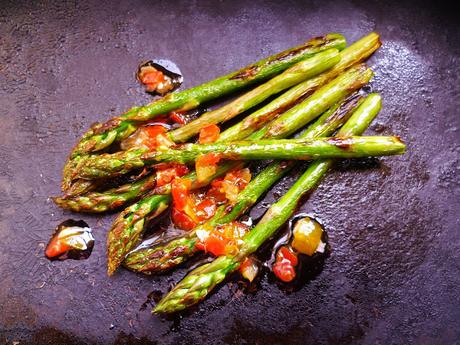 chargrilled asparagus with tomato, mint, chilli and lemon dressing
Yikes! Time is running out; the British asparagus season is so damned short, although perhaps that's what makes it all the more sweeter for asparagus lovers such as me. Frankly, I just can't get enough, which is why I am posting yet another asparagus recipe. Officially the season runs until late June, so I need to cram in as much of the good stuff as I can.

Asparagus and lemon are a beautiful combination. I love to eat chargrilled asparagus with a bright and zesty dressing; it tastes of an English summer on the horizon; so close you can almost taste it.
Serves 4
Skill level: Easy
ingredients: 
1 kg asparagus
dressing
1 garlic clove, very finely chopped
½ tsp Aleppo pepper or dried chilli flakes
½ tsp dried mint
3 tbsp olive oil
juice of 1 lemon
5 cherry tomatoes, very finely chopped (I used a mixture of red and yellow cherry tomatoes)
salt and freshly ground black pepper
directions:
Snap the woody ends off the asparagus.

Heat a heavy-based frying or griddle pan. Cook the asparagus for about 10 minutes, turning them a couple of times so that they are evenly charred.

Combine the rest of the ingredients. Season to taste.

Serve the asparagus with the dressing.