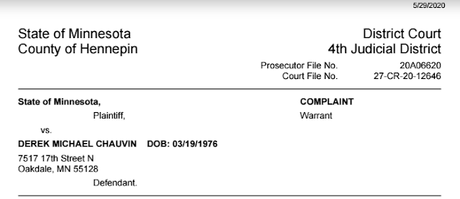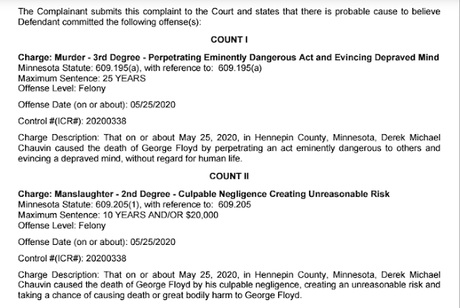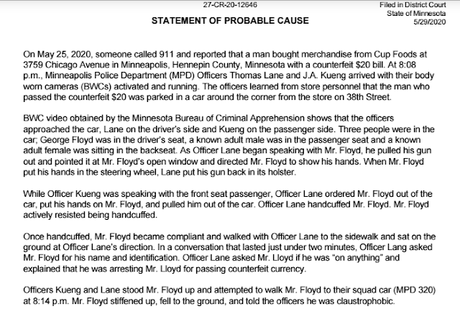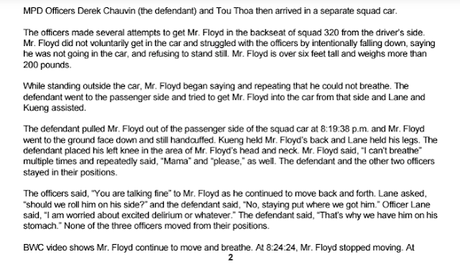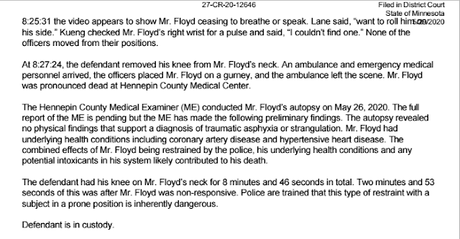 The images above are the charging instrument filed against Derek Chauvin in the death of George Floyd in Minneapolis. Chauvin has been arrested finally.
Frankly, I don't understand why it took so long to file those charges. The video of Chauvin with his knee on the neck of Floyd for nearly nine minutes has been public for days, and Chauvin's action was AFTER Floyd was handcuffed and on the ground. The incident should have been over once the handcuffs were applied. Chauvin's actions after that were nothing short of assault -- an assault that turned into murder.
So far, the other three officers have not had any charges filed against them, but have been fired. Charges should also be filed against them. They had to know that Chauvin's actions were unnecessary and dangerous, but they did nothing to stop him. That makes them at least accessories to Chauvin's crime.
There is criticism of the rioting that occurred in Minneapolis on Thursday night. I don't condone that rioting or arson. But I do believe it could all have been avoided by the Minneapolis and Minnesota state officials acting in a timely manner. But they didn't, and the demonstrations were understandable (even if some protesters took their protest too far).
The police murders of unarmed Black men are happening far too often in this country. It has to stop!