You know the feeling when your cell phone is about to take its last breath and you still have most of your day ahead of you? If you're anything like me, it's probably a mix of slight panic with a bit of frustration. Of course, you can carry around your charger, but that requires you to drop everything and find a place to plug it in. You could also carry around a backup battery pack, but those are about as useful as a doorstop if you don't remember to charge it before you leave your house.
So, what's a power wheelchair user to do? You can either spend your day phone-less and worrying, or you can get yourself a USB charger that plugs right into your chair.
Yes, you read that right. You can actually charge your cell phone by plugging it right into the part of your powerchair where you usually plug in your chair charger.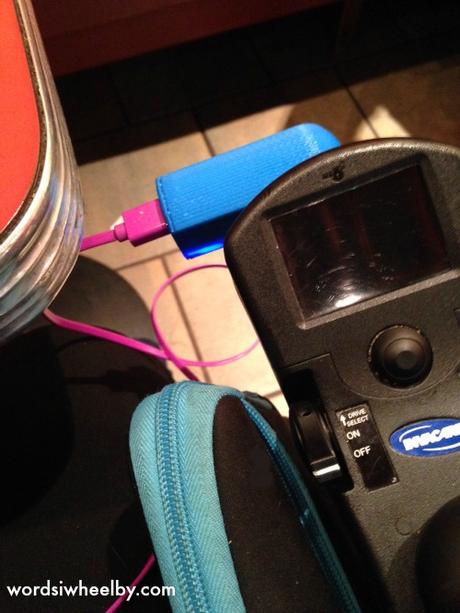 I was as excited as a kid let loose in a toy store when I discovered something like this exists. I learned about it from a chance meeting with a lovely wheelchair user named Josh, the creator of the chargers and owner of a company called Cripple Concepts. "Love it or hate it," he told me, "people remember the name."
I found myself drawn to the charger immediately. I wanted to try it out, but had a few concerns. Would I be stuck and unable to drive my chair around while I charged my phone? Would it drain my powerchair battery or damage the chair somehow? Luckily, the answers to these questions is no. I plugged my USB cable into the charger, inserted the plug into my phone, and plugged the charging device into my chair. My phone battery immediately started to charge. Then, I turned my chair on and started to ride around. The charger doesn't affect the ability to drive your chair, and it has an internal fuse to protect the wheelchair electronics.
If this sounds too good to be true, it's not. Josh was kind enough to give me a charger to keep and review, and I've put it to the test several times to make sure it truly works before sharing it with all of you. And, it definitely does work! Now, whenever I spend a long day out and notice my cell phone battery dying, I simply connect the USB charger and continue about my day. It has become a mainstay in my purse and it's a total godsend.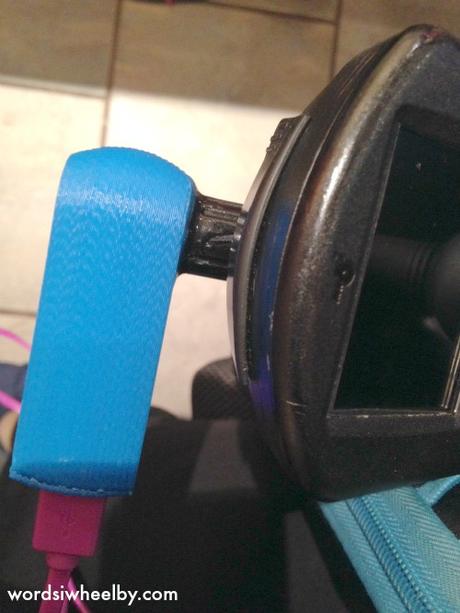 Having a way to keep my cell charged makes me feel much safer, in case something might happen while I'm out and about.
For those curious about the more technical aspects of the chargers, here are the key specs Josh provided:
24V input
2.1A and 1.0A USB ports for charging and powering most phones and tablets, as well as USB powered lights, fans, etc
Measures approximately 3″ x 2.5″
Connector positioned to point ports in direction requested by customer
3-D printed ABS (acrylonitrile butadiene styrene) housing
Remember, you must have a USB cable to connect your phone to the charging device, but this is pretty simple because you can just use the one that comes with your phone.
If you're a powerchair user or know someone who is, I can't recommend the Cripple Concepts USB charger enough. It's a total must have for me and it's by far one of my favorite adaptive items. If you want one of your own, you can buy it here: http://crippleconcepts.bigcartel.com/
Do you have one already? Or are you planning on getting one now? I'd love to hear how it works out for you!
Disclosure: The USB charger was provided to me free of charge for review. All opinions are my own.