Circuit Breaker Day 42
Though I had tried some awesome Char Siew Recipes and recorded in this blog but nevertheless, I still want to experiment with others.
I am attempting yet another Char Siew recipe but I changed the cooking method to use the instant pot instead.
These days, I am having problem if I am on my feet for too long.  I need to find ways to cut short my time in the kitchen and I am beginning to love this method of cooking.
This Char Siew (4) (Instant Pot) is good!Adapted from here and here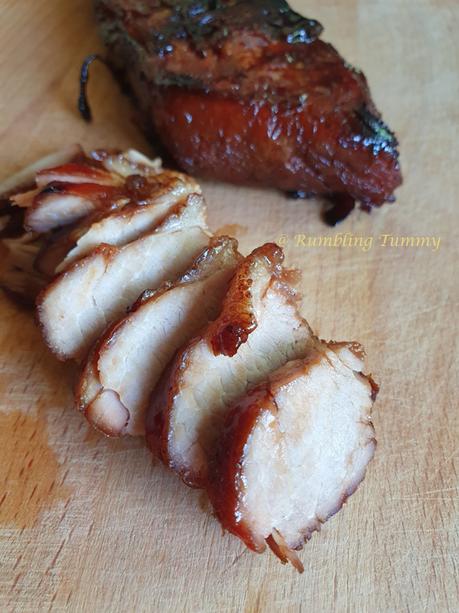 Findings: The choice is yours, if you prefer a more fatty meat, opt for that.  Since my family is not fan of fatty meat, we actually had a leaner ones.  But making a good char siew, you might want to consider more fats than ours.
Give yourself more time on the marination.  I personally feel that the longer I marinate the meat, the nicer it becomes.  So I chilled the meat overnight.
What you need:
1 kg pork with fats, cut into long strip.  (I got the butcher to do it for me and also he was the one to choose the cuts for this recipe).
6 shallots, remove skin and stem
6 garlic, remove skin
40g sugar
10g honey
10g Chinese wine
20g oyster sauce
30g light soy sauce
5g dark soy sauce
¼ tsp white pepper powder

Syrup




1 tbsp honey

½

 tbsp hot water
Method:


Add garlic and shallot into TM bowl.  Blitz for 6s/Sp10.  Remove.




Using a ricer, extract the juice.




Add into the pork and the rest of the seasonings. 




Chill meat overnight. 




Put the pork including the marinade into the inner pot of Instant Pot.




Cover and turn the steam release handle to the "sealing" position.




Press the "stew" button and set 20 mins. Let it run natural release for 10 minutes.




Quick release.  When the flat valve fully in rested position, open the cover and take out the pork. Reserve the sauce for dipping.




Mix honey and water well. Set aside.




Heat oil in a frying pan over medium heat. Pan-fry the char siew pork until both sides are lightly brown. Brush syrup on the surfaces.




Slice and serve.




Enjoy!




If you have enjoyed this post by Rumbling Tummy, be sure to follow her on Facebook, Instagram, Pinterest, Twitter and Google+ .