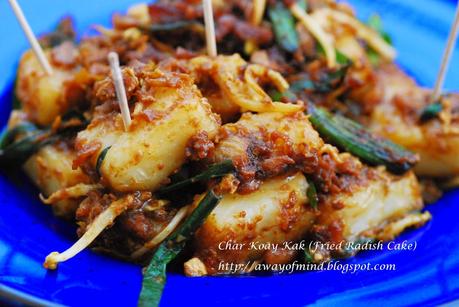 槟城。。。街边小吃的天堂!今天上的这道小吃是槟城炒罗卜糕,卖相是和新加坡的
炒罗卜糕很相像但最大的不同是
槟城
炒罗卜糕是咸和黑的。
想当年每一天下了课肚子饿的我最期待的一件事是吃上一包用橡蕉叶
报纸
包成
锥形热腾腾的
炒罗卜糕。那时一包
炒罗卜糕
才RM0.20。
那大平锅,那校门外
炒罗卜糕阿叔的背影,那老旧的三轮小贩车,那穿深蓝裙子的日子,那嘻哈无忧的我们,还有那黄色时常抛锚的学生车是那么的让人怀恋。

前几天就带了这道槟城炒罗卜糕赴一个"怀旧情怀"之约,来参加的人都是来自各亚洲的女士,很高兴有不同文化背景的朋友懂得欣赏这道槟城街边小吃。我想怀旧之情是会被感染的!Penang is famous for its street hawker food. This dish I posted here is one of the famous street food in Penang, it is made of shredded radish, we called it Char Koay Kak (in Hokkian) which means fried radish cake. Penang's version of fried radish cake is similar to the Singapore's version of fried radish cake, the main difference is Penang's Char Koay Kak is at salty side, the dish is dark in color and the radish cake has to be in cubes. 

Few days ago, I made this dish to bring to the Asian Coffee Morning (ACM) as the theme for the morning was "Childhood Nostalgia". Yes, I have so much sentimental feeling for this dish because it actually captured the happy childhood I had when I was still in primary school. The image of the huge flat base wok, the uncle who fried the radish cake, the rundown three wheels hawker cart, the navy blue uniform, the days when we know nothing about worries, the yellow school bus that always broke down.... were all part of my childhood.

I'm glad that the ladies from different culture background was able to appreciate this Penang Char Koay Kak (Fried Radish Cake). The texture of the radish cake has to be firm but soft, the right texture will allow you to fry the radish cake blissfully and not turn into mess. 

Recipe referred to my previous post , original from Minty's Kitchen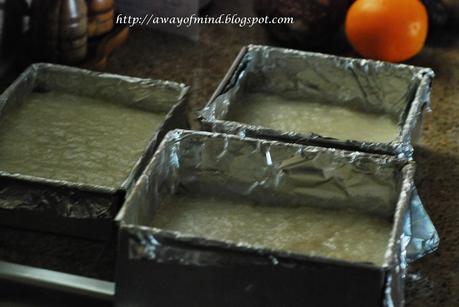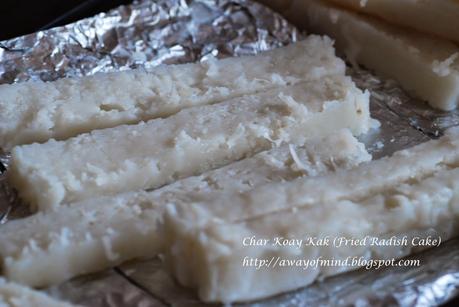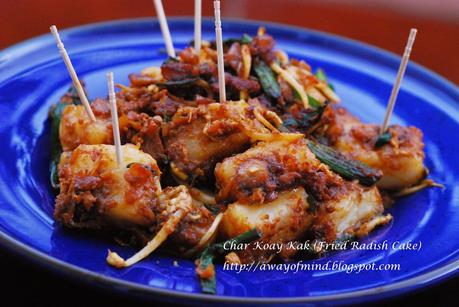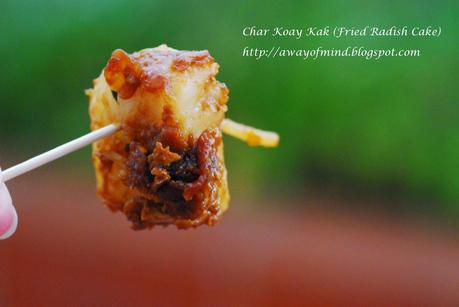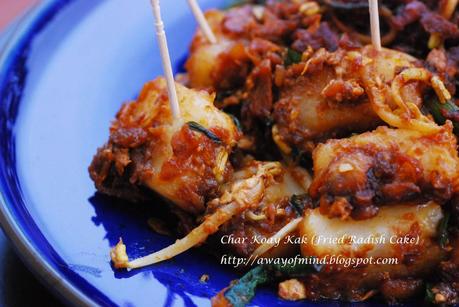 yield: 8~10 plates
Ingredients for making radish cake:
600g radish (shredded)
440g rice flour
80g tapioca flour
40g wheat starch
500ml water
2 tsp salt
2 tbsp sugar (to taste and add to cover the smell of rice flour)
1000ml water (add during frying stage)
Method:
Making radish cake:
1. In a mixing bowl, combine rice flour, tapioca flour, wheat starch and 500ml water together, stir well.
2. In a pot cook shredded radish with water till soft (turn translucent). Discard water.
3. Heat pan with 1 tbsp oil, fried the shredded radish for 2 mins. pour 1000ml water into the pan.
4. Continue cook the shredded radish mixture till boiling, stir in flour mixture and cook over low heat all the time until the mixture thicken.
5. Pour the batter into a steaming pan. Steam over boiling water for 30 mins. or the radish cake turned slightly translucent. Cool the radish cake thoroughly before cutting into cubes.
Ingredients for frying the radish cake:
6 tbsp chopped sweet pickled radish (chai poh), soak in water for 30 mins. and drain
1 bulb garlic, minced
2~3 eggs (optional)
some Chinese chives
some bean sprouts
3~4 tbsp cooking oil
seasoning (to taste):
1 tbsp dark soy sauce, 
1 tbsp sweet dark soy sauce (kicap manis)
2 tbsp light soy sauce (to taste)
1 tbsp red chili paste (sambal chili)
1 tbsp sugar
Frying radish cake:
1. Heat oil in flat base wok and fry minced garlic and 
sweet pickled radish
 till aromatic.
2. Add in radish cubes and fry with medium heat until the radish cake turn lightly browned and slightly crisp. 
3. Add in seasoning, red chili paste and fry to coat evenly.
4. Push the radish cubes to the side of the pan then crack eggs into the pan. Allow the eggs to set slightly before flipping the radish cubes over.
5. Finally add bean sprouts and Chinese chives. Toss until well combined.