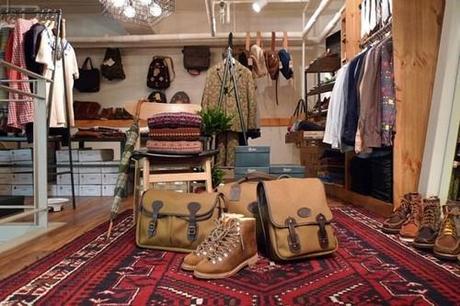 I've been wanting another game bag - the kind built from a sturdy canvas cloth and trimmed with vegetable-tanned leather. These are, to be sure, built for sportsmen, but I find they're also perfect for lugging things around a city. A pocket intended for tackle can be used to hold a laptop charger, and any large compartment meant for game can be used to store laptops, books, and some papers. Used with a Barbour jacket and some boots, I can't think of anything better.
I bought a tan fishing bag last year from Ralph Lauren, and was hoping to get the green one this season for variety. It sadly didn't make it to their sale, so I've been looking to more traditional English makers. At the top of the list is Chapman, a company named after and started by John Chapman in the early 80s, right after Barbour acquired the bag maker Liddesdale (where John Chapman had been working). It was a risky, but ultimately smart move, as Barbour would eventually shut down Liddesdale and move its bag production overseas. By that time, however, Chapman was already a thriving business selling British made bags all over the world, winning over the hearts of outdoorsmen, and even producing for brands such as Holland & Holland and Purdey.
Chapman is now owned by Daniel Chamier, a former banker who took over the company in 2006. The operations remain the same, however. There are just sixteen full-time employees, who do everything from hand-cutting the original patterns to finishing all the traditional saddlery work. In addition, not only are the bags produced in the UK (in Carlisle, just four miles from my tailor, coincidentally), but they also use UK materials. Tweeds are from Scotland, wools from Yorkshire, and leathers from a tannery in Kent. These are fully English, inside and out. 
I'm told that while fishing and shooting bags still make up a big part of the company's business, most of their bags are used for non-sport purposes. In fact, it seems that they're looking to expand that range. This past year was the company's first showing at Pitti Uomo, and they're continuing to build collaborations with fashion brands and stores. For example, some of their best products (to my eye anyway), are done with the stylistic direction of companies such as London Undercover and No Man Walks Alone, who take standard models and spec them with their own choices in materials and colors.
Perhaps most exciting is the company's bespoke offering. Prices online start at a very reasonable $150, but if you wanted to spec your own design, there's just a 20% upcharge. If necessary, a custom pattern can be made for an additional $250. That's the route I think I'm going. If I'm lucky, I'll be able to get Chapman to take some photos of the production process as well (there was no discount given for this post, and they don't even know I'm writing about them). The final cost will likely be more than I wanted to pay for that Ralph Lauren piece, but I imagine it'll also offer more value.