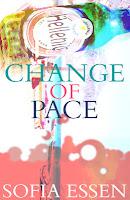 Change of Pace by Sofia Essen is available at Amazon and Barnes & Noble
Workaholic Anna Cox gets downsized after ten years at Milton International. Her boyfriend of five years suddenly dumps her. She turns thirty the same week.
She has lost her job and her boyfriend, and maybe her mind too. Sane people don't follow a sexy Englishman they meet on a plane to a tiny village in Crete no one has ever heard of, do they?
Just as Anna is settling into the slower pace of Greek island life, the mother she is estranged from turns up unexpectedly, shortly followed by a brother she didn't know existed.
"Change of Pace" is about discovering there is always more to any person or story than meets the eye. And sometimes, you have to leave everything you know behind to find yourself.
Read CE Cochran's Review of "Change of Pace"