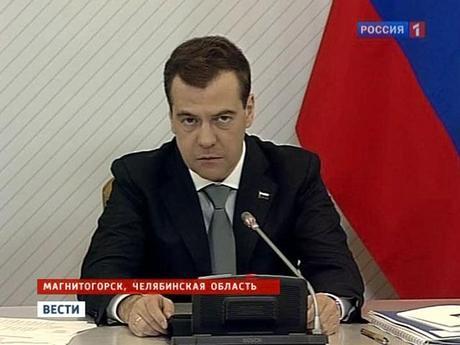 Russian president announcing a new plan to reduce corruption and improve the investment climate. Image: Vesti.ru
Those who follow Russia have been skeptical about the country's efforts to clean up widespread corruption. When President Medvedev took reins of the country several years ago, stamping out bribery and graft became one of the key objectives of his administration. Yet, as government experts admitted last year, there has been little success. Business people, citizens, and anti-corruption activists would probably agree. Earlier this week, the President himself said:
Corruption's grip is not weakening, it has the whole economy by the throat. The result is obvious — the money is fleeing our economy.
During the same speech, Medvedev announced a series of new measures to fight corruption. What is encouraging about his remarks is that he essentially linked corruption to the inability of the Russian economy to live up to its BRIC counterparts.
Medvedev's remarks can be summarized in a few short sentences: "Corruption stifles entrepreneurship. Corruption discourages investment. Corruption keeps would-be entrepreneurs out of the economy. Corruption causes capital to flee the country into much safer business climates. We can't keep on going in this way. We can't talk about increasing standards of living until we address this very problem."
Change is in the air in Russia? Some experts are saying so, and, surprisingly, among those are people who have been staunch critics of the government's failed anti-corruption approaches of the past few years.
What's giving them hope? A new 10 point plan (in Russian) to improve the investment climate laid out by the president. It includes:
Creation of a new mechanisms to review corruption complaints and respond to those complaints within a specified period of time in public (if complaints are public as well)
Reducing the influence of state enterprises in the economy
Ensuring that minority shareholders can access relevant information on companies' performance
In some way, corporate governance is being recognized for its role in fighting corruption. If you can clean up companies and if you can make the relationship between business and state more transparent, the idea is that you clean up the economy. One of the concrete steps offered by Medvedev is to remove government ministers from boards of state-owned companies (caveat: SOEs have to be in the same industry in which the ministry operates). Although some people remain unconvinced that this will lead to drastic changes:
"Allowing government officials to serve on the boards of companies in industries they regulate formally limits competition, but we doubt potential changes would alter the nature and not just of the form of state involvement," agreed Ildar Davletshin from Renaissance Capital.
WSJ also questions whether this move will be able to change the nature of the Russian oligarchy, which is defined by political interests controlling the economy through board presence at large state and non-state companies. Yet some experts in Russia are optimistic, as in his remarks Medvedev explained that perhaps it is time the government admitted that it can't be in the business of governing and doing business at the same time. Running the economy should be left to the business community and the government can focus on doing what it should be doing best – creating a business climate within which the economy can prosper.
The plan to ensure that minority investors can play a greater role in holding publicly owned companies accountable is also important. In fact, Alexey Navalny, who has seen an exponential growth in news coverage over the past few months for his role in trying to inject transparency into the Russian procurement system, has started his anti-corruption career by doing just that – purchasing minority shares in state-owned companies and then forcing them to release information on questionable deals, which often went into hundreds of millions of dollars.
Navalny's strategy and tactics aren't the only approaches for slowly undermining corruption in Russia. Local chambers of commerce throughout the country are taking aim at bribery and extortion caused by local administrators' ignorance and misunderstanding of laws and regulations governing business in Russia. There are plenty of other approaches – which isn't surprising, given the vast and complex nature of corruption in Russia.
New proposed changes in how business is done in Russia may be a step in the right direction. But just as everywhere else – implementation is key. And in many ways implementation hinges on the commitment of public officials in Russia to have a transparent, corruption-free business climate. Until that commitment is there, all the proposed changes would drown in bureaucracy of implementation or, to be more precise, non-implementation.