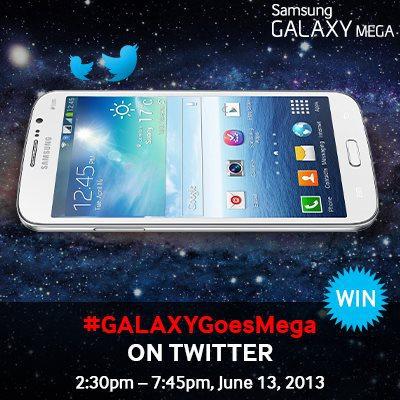 Here comes a chance to win Samsung GALAXY Mega Android phone. All you have to do is to answer ten questions about GALAXY Mega and you can be one of the three lucky winners to win this big screen smartphone.
Samsung GALAXY Mega was recently launched in India. Two models of Mega were launched, one with 5.8 inch screen and the other with 6.3 inch screen. Both GALAXY Mega  models have Dual Core Processor and run on the Android 4.2 Jelly Bean OS. They have 16 GB internal memory, expandable up to 64 GB, 1.5 GB RAM and 8 MP main and 1.9 MP rear camera. To know more about the Mega, click here: Samsung GALAXY Mega
THE CONTEST
Today @SamsungMobileIN is hosting a Twitter contest #GALAXYGoesMega starting at 2:30pm.  There are THREE GALAXY Mega 5.8 phones to be won for this contest.
Here's how you can participate:
1. Follow @SamsungMobileIN on twitter
2. Starting 2:30pm today 10 brain-teasers about mega-experiences will be tweeted
3. A new question will come at a gap of 30 minutes
4. Each question will be followed up with a hint
5. Tweet your correct answer for each question, using #GALAXYGoesMega
Three lucky winners to answer all correctly will WIN Samsung GALAXY Mega! To know more visit http://spr.ly/6033kqO1