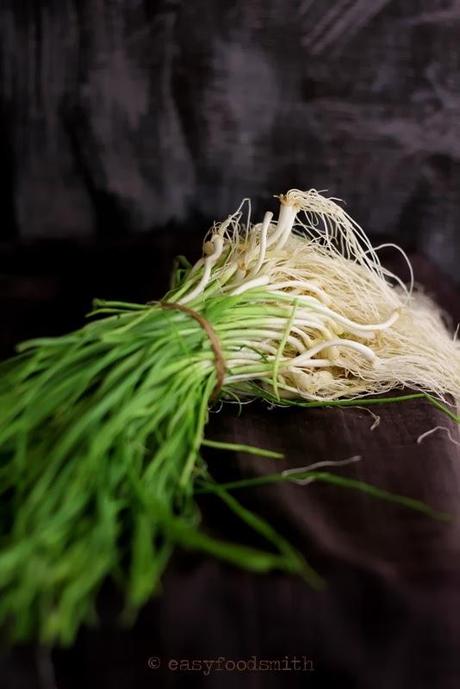 It is hard to describe my excitement when I saw the tender spring garlic in the market and it goes without saying that it was harder to resist not buying it even though they hit my pocket hard. I had last had potatoes stir fried in the chopped spring garlic nearly a decade ago; they tasted awesome. 
The best thing about spring garlic is that it is not strong and pungent like the mature garlic. Spring garlic has this mellow quality about it that is not over powering; the flavors are subtle yet distinctively garlicky. 
Pilaf gives one the liberty to become whimsical
…
how you ask? One just needs to add whatever one fancies to the rice and the end result is a delicious rewarding
rice dish
one pot meal; sweet or savory! 
Simple that a pilaf may be, yet it happens to be such a wonderful fragrant dish which is great on its own and with a side dish or an accompaniment of pickle or chutney; not to forget a drizzle of ghee over hot pilaf
J
I like to serve savory pilafs with Boondi Raita.

Serve with accompaniments of your choice. I usually pair them in groups, such as chutney with papad and yogurt or ghee with pickle and papad. Make your own combinations and enjoy! 




3/4th glass Basmati Rice1½ glasses Water250-300 grams Spring Garlic (Garlic Shoots)½ heaped cup Green Peas (fresh or frozen)

1/3 heaped cup Split Bengal gram Dal (soaked over night or in hot water for at least two hours)

1 inch stick Cinnamon

5 Cloves

½ tsp Cumin Seeds

1 Bay Leaf

2-3 tbsp Oil

Salt and red chili powder to taste

½ tsp 

Garam masala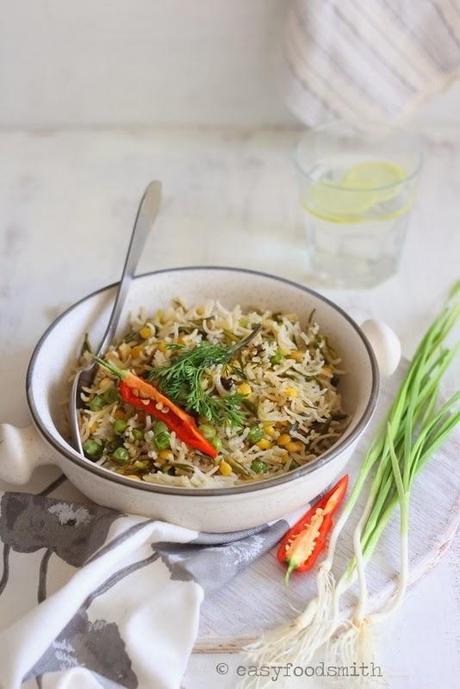 To serve:
Lemon Pickle
Dahi

or Boondi Raita
Green Chutney
Papad
Ghee
Vegetable Pickle
Wash and soak rice for half an hour. Keep aside.
Wash and clean the spring garlic and chop it along with the greens. Keep aside.
Heat oil in a heavy bottom pot and pop in the cinnamon, cloves, cumin leaves and bay leaf. Once the spices become aromatic, add sliced spring garlic and saute till it becomes aromatic (a minute or two).
Add the dal, peas and rice and stir in the salt, chili powder and garam masala. Mix well and add the water. Wait for the water to begin boiling. 
Cover the pot with a tight lid and reduce the flame to minimum. Do not open the lid while the rice is cooking. Let it cook for 15 minutes. Remove from the flame and open the lid after 10 minutes. Fluff the rice with a fork and serve hot with your favorite accompaniment/s.  
Note: Do not be horrified with the amount of garlic that went into this pulao. As I mentioned earlier, the flavors of spring garlic are delicate and if you reduce the amount it won't impart a lovely garlicky flavor to the pulao; it would end up tasting just like any other pulao.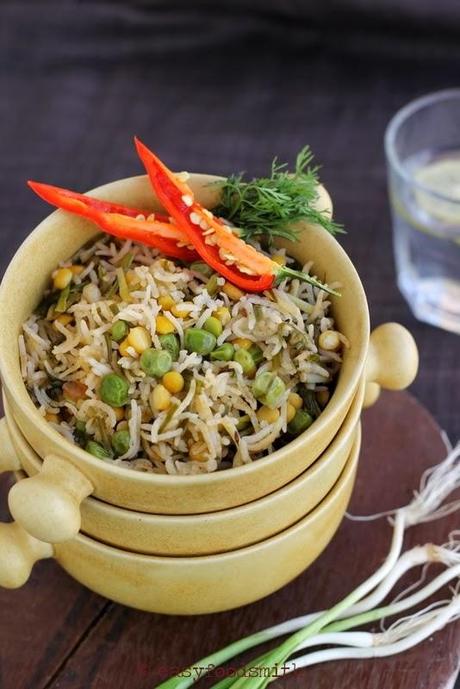 Serves 4 
IT IS ALWAYS ENCOURAGING TO HEAR FROM FRIENDS AND READERS. I CAN ALSO BE REACHED AT:
[email protected]