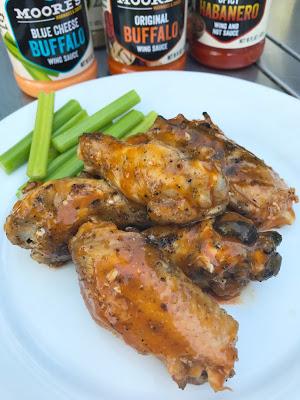 Just like tailgates and Superbowl parties, nothing says March Madness like chicken wings which are always on our menu for the Championship game! If only they weren't so – well – fried. So how can you enjoy your favorite game time food and still be health conscious? Baking is always an option, but usually requires added oil and doesn't result in the crispy skin that makes chicken wings so irresistible. Solution: grilling which is so much easier to prepare without the need to deal with splattering oil and messy clean up. We all know that saturated fats, like butter and lard, are bad for us. One of the best ways to avoid eating excess fat is to grill your proteins. Grilling adds flavor to meat and allows you to bypass the addition of oil.
Grilling also allows for the natural fats to drip off and cook away. Grilling is a great option for feeding the family on those busy nights. Not only will grilling make it easy for you to consume less fat and sodium, but it'll also hold in more of those nutrients that our bodies crave. Throwing some healthy protein and seasoned vegetables on the grill is quick, and those chicken wings will lose less of their nutritional properties due to the short cooking time for most meats on the grill. And as an added bonus, you can get nice crisp skin. The key is getting a good char on them, and using a great sauce at the end like Moore's… Did you know that the traditional recipe for wing sauce is hot sauce and butter? More fat. Moore's has only 1.5 grams of fat per serving, is gluten free and certified Kosher.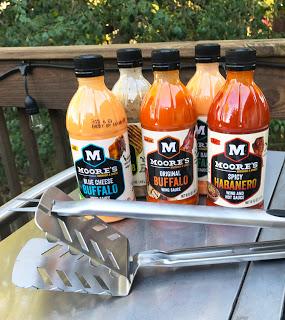 Grilling up some wings also gave us the chance to try out our new toy from TNK Brand. The Stingray BBQ multitool is a spatula, tong, toothed tong, fork, launch control, bottle opener which sits up when put down, to prevent your countertop from getting dirty. After washing in the dishwasher, it can be locked to be put away safely. Because wings are small, they can be hard to turn and move on the grill. The stingray made it easy to maneuver those little buggers without burning our hands. Looking forward to a summer of easy grilling! Now back to those wings…
10 whole chicken wings, cut into drumettes and flats
1/2 cup Moore's Wing Sauce (of your choice)
Rub your grill racks down with some oil or cooking spray and ready your grill. You want to cook the wings at about 350ºF.
Put the wings in a single layer on the grill directly over the heat and grill for about 20-25 minutes. We start by leaving them in one place with the lid closed, for a few minutes. Because some tend to cook faster due to hot spots on the grill, keep monitoring and flipping as they brown. If a few wings seem to get dark before others, shift them to a cooler part of the grill. They'll keep cooking but not browning.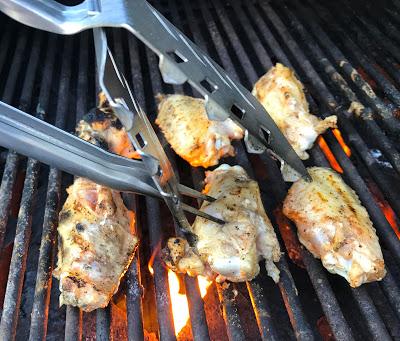 After about 18 minutes of flipping and moving them around as needed, use an instant read thermometer in the center of a few wings to make sure that they've all reached 165ºF. If some aren't quite there, give them another 5 minutes. You are looking for wings that are nicely charred on all sides and cooked through.
Using tongs, transfer the cooked wings to a bowl. Pour your favorite wing sauce (like Moore's) over the wings and toss. Add more sauce to achieve your ratio of sauce to wings. Serve with plenty of napkins!