The news reported last night on  report that despite the much greater use of disposables in the Haredi community, the Haredi community in general creates far less waste than the general Israeli society.

Kan News presented this infographic: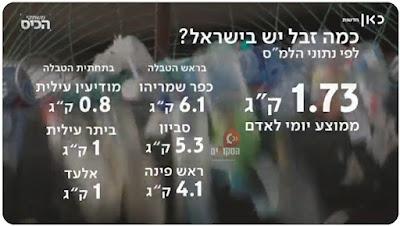 this is showing different cities and the daily average of waste created per person, with cities like Rosh Pina, Savyon and Kfar Shmaryahu weighing in at 4.1kg per person and up to 6.1kg per person. DAILY! and Haredi cities like Modiin Ilit and Beitar and Elad producing 1kg and less per person.
I don't know what they are disposing of in Kfar Shmaryahu but that is a lot of waste. Maybe they are replacing appliances and cars and just throwing the old ones out in the trash. That weighs a lot more than plastic plates. I cannot imagine what they could be disposing of that would calculate to 6kg per person per day!
------------------------------------------------------
Reach thousands of readers with your ad by advertising on Life in Israel
------------------------------------------------------