Manchester United vs. Real Sociedad – Champions League – Venue: my couch by Luge Pravda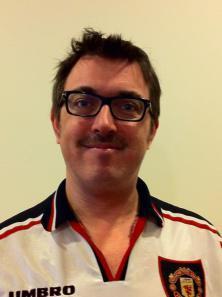 Anyone who knows me well enough will know I am able to watch more live football on the weekend than I was ever able to back in the UK (thanks to no Saturday 3pm embargo; and now new US rights owner, NBC, showing every one of those 3pm game on what Americans like to call TV 'real estate'). One casualty though has often been the Champions League ties, being as they are in midweek and in slap bang in an Eastern seaboard afternoon. Of course, for many ties there was a purely coincidental increase in 'business meetings' in my calendar at around 3pm Eastern Standard time, 8pm back at home: meetings between myself, a pint or two and a TV screen at the local soccer showing bar in Lower Manhattan. The best kind of business meetings if you ask me. However, as I am currently on a sabbatical I have no such worries about work inconveniently getting in the way of an afternoon European tie. At least not for the time being. Perhaps in the knowledge I would be watching the match in full, Stuart asked me if I would like to write a review of the match and who was I to turn down another slice of The Ball is Round.
First things first, I liked the look of the team the team: Jones getting a chance at center back; a chance for Kagawa, and to a lesser extent Hernandez to show what they are capable of (Chicharito could well score a hat trick but he ain't going to usurp RVP when the latter is fit, let's face it); and Giggs in midfield. Moyes must have expected less of an emphasis on protecting the back four – and for periods of the match this was the case – but Fellaini, who has looked off the pace and prone to wayward passes in recent weeks, must have been a tad disappointed. On the subject of Kagawa, there appears to be a 'movement', a body of fans railing against the club, or more accurately Moyes, for his exclusion. To those people I say this: do you see him every day in training? Moyes clearly sees something; or maybe he is simply not fully fit. And you know what Klopp, you can keep your opinion on you ex player to yourself too. Thanks.
United flew out of the traps: the first move of the match results in a goal: a wonderful snaky wriggly run from my favorite player – Rooney (despite everything that has happened or not depending on who you believe) – before the pinball confusion in the box results in an own goal from Martinez. And while I am on the subject, can we all refrain from referring to Rooney as 'rejuvenated' now please? I think it is fair to say that Moyes' greatest achievement to date (sorry Community Shield apologists) is the form of the Utd number 10. Headband or no headband. But rejuvenated? Come on he never became a bad player, he just seemed disinterested at the fag-end of Sir Alex's reign.
The atmosphere in the early minutes seemed a world away from that which descended over Old Trafford for the Southampton draw. This has something to do with the 'singing section' so I am told on Twitter. I would be keen to know exactly what constitutes this section and how it differs from the rest of the ground, because I genuinely don't know. And, perhaps as a result, Sociedad seemed genuinely shaken. This bodes well for a good performance from the home team I say to myself.
The next slice of meaningful action sees Hernandez with a penalty shout; and a few minutes later a high tackle from González on the Mexican. Surely a free kick for Rooney? Well, Giggs was never going to – as Gary Neville quite rightly pointed out – snatch that one off Roon, but it transpired to not be one of the Scouser's best efforts.
Another player that looked up for it in the early period was Valencia: I really liked him a few seasons ago, and thought he was reliably very effective, but then he lost his way (what was that about him being intimidated by the old number on his jersey?) However, today he looked keen to get a decent cross in, albeit his specialty, the low driven cross, rather than anything above head height. The whole side had clearly been told to move the ball forward with much more purpose and urgency and in the opening quarter, Rooney, Kagawa and Valencia saw a lot of the ball, more often than not from the good work of Carrick (no surprise there) and the old man of the side, Giggs. Sociedad really needed to haul themselves into the fixture and fast, but in the first quarter of the match they were simply not able to develop any decent passages of possession. There was some good defensive play from the Spaniards, however: in the 20th minute as their back line stepped up and two Utd players were caught offside, including Hernandez whose goal was disallowed.
The Spaniards first decent shot, that I can remember, and a subsequent save from de Gea came in the 29th minute. It is around the half hour mark, that the prospect of it being 'one of those nights' started to rear its head: dominance in possession not being converted into goals and a decent, and safe, lead. In the 33rd minute a free kick from Griezmann missed the target and is nowhere near as impressive as his hair. Which, for the record, is awful; who advises footballers on their hair, eh? A decent penetrative run from Giggs in the 39th minute ended with the Welshman being bundled over. Again he left the free kick it to Rooney, whose shot was dragged and deflected for a corner. From the resultant Giggs' corner, Jones had free header which flew high off his head, although his hang time was impressive. In the 41st minute, the Ref started to take over. One could not disagree with Neville's assessment "he wants to be the star of the show". Apparently he is a butcher, and that figures. From the 2nd free kick attempt, after the first one was taken too quickly, resulting in a yellow card, Griezmann whacked the bar from outside the box. As the half came to an end I think Moyes would have welcomed half-time as Utd had by this time lost their early momentum. Sociedad looked like a different side in the final 15 minutes of the half. A warning for Utd (with a 1-0 Southampton score still fresh on their minds) as they had a cup of tea within the belly of Old Trafford.
The second half started with almost that exact same narrative from Gary Neville to "kill off the game", "with Southampton fresh in the mind". This is the new Utd reality in these opening weeks of the season and Champions League campaign. How effective was Moyes' half time talk we wondered? Well, it seemed as if Moyes half-time talk had the opposite effect as Utd opened the half far more nervous that Sociedad. In the 51st minute Evans nearly sliced into his own net. I once scored a goal like that in the 3rd year at senior school: right up there in my all time cannon.
I read a few tweets at half-time from Giggs Boson lamenting Kagawa being played out on the left; of all the Utd players Shinji opened the second half brighter than most of his Utd team mates. I personally would have liked to have seen Hernandez taken off early – he had done little since the opening spell – with Kagawa moved behind Rooney and Januzaj bought on to replace Kagawa on the wing. But that is probably why I am not a top flight manager as Moyes' first substitution saw him take off Rafael in the 58th minute, no doubt to protect him from the Copenhagen butcher and another yellow card, and Chris Smalling was duly sent on as the Brazilian's replacement.
As the match entered the last third, the 61st minute saw Kagawa execute a beautiful pirouette: Klopp and Giggs Boson will have been pleased. But a miss in the 65th minute after a great move from Valencia, with Kagawa arriving right on to the ball in the box, with the defender getting in a last gasp block, will have disappointed in equal measure. One wonders what a goal there would have done for his confidence, not to mention chances of remaining in the side? 70th minute and Rooney skied a gilt edged chance. No longer a simple prospect, the night had truly become 'one of those nights' as the match entered the final quarter with a slim one goal lead. In the 77th minute the camera panned to Moyes in conversation with Young: "just don't dive Ashley, ok", is probably not what Moyes said to the England winger, and to be fair he didn't commit one of his famous tumbles whilst he was on the pitch. I'm personally not so keen on Young; I never have any idea what value he adds to the team, the odd half decent goal for Utd (and England aside). Perhaps the only consolation was that Kagawa had 10 minutes in his preferred role behind a lone Wayne Rooney.
It was great to hear 'Twelve days of Cantona', but as early as late October? Perhaps it is an all year song now, choosing not to discriminate the season. My wife would have been pleased: it is her favorite thing about watching Utd with me – the songs – something watching US sports doesn't really provide (unless you count the lame "Let's go "). 86th minute and Young could, and should, have put the match to bed. But he didn't and there is something so very Ashley Young about that isn't there?
The match ended with Giggs, still going strong at almost my age, showing off with a couple of ridiculous passes. This begs some of the most serious questions posed by his performance this evening: how long can he go on for and what is the best role for him? Impact sub (a somewhat odd phrase for a 39 year old, I mean Lakaku was spoken at Brom of being an impact sub, so go figure); or pulling the strings for the whole match. I cannot see him doing the latter very often in the higher tempo Prem perhaps, but the Welshman made a real difference this evening, providing an urgency to the more cerebral Carrick, and working well off him. All of which puts pressure on Fellaini and suggests a style for the Belgian to aim for.
All in all, this being Champions League group qualification, a result that is more important than the performance perhaps. That said, there were some genuinely encouraging signs, particularly some of the movement up front – Rooney pivotal to all the good work, but others, Kagawa in particular, showing more conviction than in recent matches – to suggest a proverbial corner might have been turned. 1-0 up at home at Old Trafford is the new 'squeaky bum time'. Didn't that used to be when Utd were chasing a lead? Utd fans might do well to get used to it.