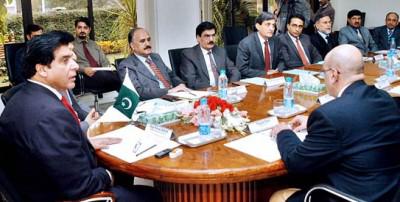 PRGMEA textile industry roundtable (Image:www.dawn.com)
From the start of its work in Pakistan in 2006
This work supports not only the development of chambers and associations in Pakistan but also benefits their members through public policy advocacy. In the past five years, CIPE has facilitated the engagement of business community in a high-level dialogue with parliamentarians focused on a result-oriented push towards important reforms such as the 2006 Trade Organizations Ordinance that enhanced freedom of association, created new self-governance mechanisms for chambers and associations, and for the first time in Pakistan's history allowed for the creation of women's chambers of commerce.
In a recent effort to strengthen the voice of business in policymaking Pakistan Readymade Garments Manufacturers and Exporters Association (PRGMEA), which has actively participated over the years in CIPE's Secretaries General Conference, hosted a roundtable conference for various sector-specific associations of the textile industry with the goal of developing a more unified stance on government policies that affect the industry.
The concept of this roundtable was to bring together all trade bodies representing the textile industry under one umbrella to develop a joint strategy for solving problems impeding the industry's growth. Bulk of the participating associations agreed to form a committee tasked with working on a common agenda or charter, which can become the basis for formation of the Federation of Pakistan Textile Industry (FPTI).
The participants also urged the government to revise the economic policymaking process so that it institutionalizes consultation with the business community. Greater unity among organizations representing various sectors of the textile industry that PRGMEA strives for will foster closer coordination on policy issues to improve and build their capacities, address common problems, and help develop a healthy business community of Pakistan. This is a significant step in CIPE's work on strengthening business associations and advancing policy reforms, which is now gaining momentum in Pakistan.