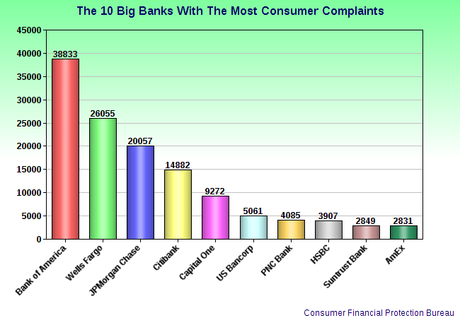 One of the accomplishments of the Obama administration was the creation of the Consumer Financial Protection Bureau (CFPB). Before it was created, consumers were basically at the mercy of the giant financial institutions. And even if the banks were clearly in the wrong, their phalanx of attorneys could make any actions by a consumer (especially one with limited funds) cost prohibitive. In other words, the banks could do what they damn well pleased with impunity.
The CFPB has changed that, because it puts the power of the federal government behind justified consumer complaints -- and considering the number of complaints filed against financial institutions since 2012 (over 265,000), it is easy to see why the big financial institutions (and their GOP allies) fought so hard to keep the CFPB from being established. They now have to answer for playing fast and loose with the financial rules and regulations.
The complaints filed with the CFPB is a public record -- and the chart above shows the banks with the highest number of complaints against them. It looks like this program is a success.