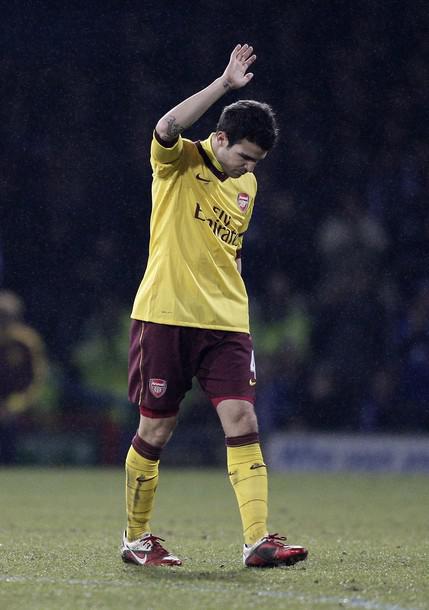 For the life of me there is no real need to have Cesc Fábregas return to Can Barca.
There is no real reason to have him come back to Barca for the amount of money that Arsenal are asking for, that's for sure.  Ok, he might be getting that professional itch crossed with romanticism of how things used to be with his boys.   What happens here is that the club needs to stop thinking with its heart and needs to start being more analytical when it comes to pick up players.
Just a few days ago Sandro Rosell celebrated his first year as club president. During this time he has said that he wants to do everything in his power to reduce club debt.  Part of that has to be considered when their biggest lesson was none other than Dmitro Chyngrinskiy, a player that forced Barca to incur €10 million euros in losses after signing him from Shakhtar Donetsk.  This was only after the Ukranian international would be a Blaugrana sparingly during his year there.
All of a sudden he alk about the money Barca are wiling to spend is countered by "not going crazy" over Cesc.  How about "forget Cesc"?  I think that is what Barca should do.
If there is a sector that they really do not need to have depth is in the midfield.  Xavi, Iniesta, Busquets, Mascherano, Keita, and even Thiago are very capable to step in at a moment's notice.   Cesc's position would not even be guaranteed if he were to come into the squad. Right now Cesc would be one of the highest-paid second string players in the world.
To be honest, the rumor that I read on Sport and Mundo Deportivo of Thiago Silva would sound like a more reasonable move especially if Carles Puyol does not recover fully from his knee or even slows down a bit.  Although we all know that the typ of talk generated during during the transfer market is relative drivel.
If Barca want to sell me on the need for Giuseppe Rossi or an Alexis Sánchez, absolutely on board with that.  The forwards are paper-thin to say the least.  An injury to Pedro, Villa, or even Messi would have the Barca attack in a precarious situation.  That issue would be further exacerbated with the impending departure of Bojan Krkic.  Ibrahim Afellay could be an answer, but there is a chance he could end up going elsewhere.
The answer has been, and still is, in their player development.  So because Cesc wants to come back, then forget the Thiagos, the Nolitos, and the Deulofeus of La Masía.  As much as the Arsenal captain has a piece of Barca still in his heart, he is still an Arsenal player.
It is a trap that we've seen Barca being baited into.  The impression that they give is that they somehow get tempted for the big name signing in an effort to remain relevant in the eyes of the media.  The past two or three seasons, Real Madrid have beaten them in the headlines department during the summer.  In that field there is no one competing with Madrid.
Too bad that those blockbuster headlines have not translated into trophies for the most part.
This is why, in my opinion, Cesc's arrival to Barca was an open and shut case both from a tactical and economic perspective.