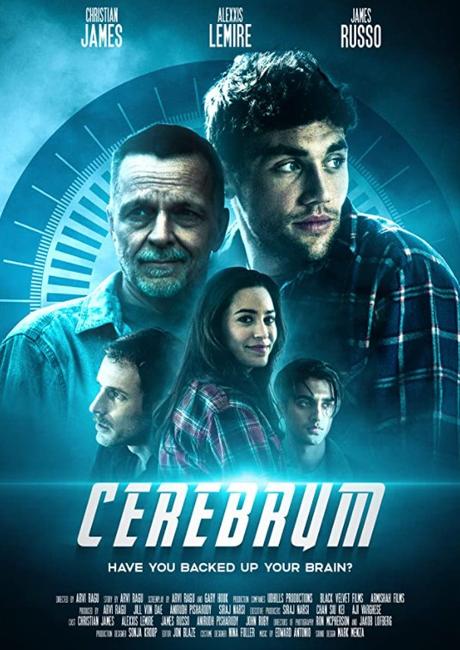 Director: Arvi
Writer: Arvi, Gary D Houk (Screenplay)
Starring: James Russo, Alexxis Lemire, Christina James, Anirudh Pisharody, John Ruby, Aly Trasher
Plot: To make ends meet, Tom signs on as a guinea pig at a home-based lab, but when he commits a crime he cannot remember, he must risk his own sanity to reveal the truth

Tagline – Have you backed up your brain?
Runtime: 2 Hours
There may be spoilers in the rest of the review
Story: Cerebrum starts when Tom Davis (James) returns to his estranged father Kirk (Russo) who has been working on a research project that could look to solve Alzheimer's after dedicating his life to creating a place where people can download their memories.
When Kirk dies suddenly, Tom gets caught up in the middle of wanting to finish his work, what caused his father's death and making money that will set him for life by selling the research, as he must decide what is best for his own future.
Thoughts on Cerebrum
Characters & Performances – Tom Davis has returned to see his estranged father, he has had plenty of problems with his father in the past and this is all about the money until he learns what the research is truly for. He agrees to have his own memory backed up only to find himself being caught up in the murder of this father, trying to learn about the truth. Christian James does a great job in this film, where at times, he must deal with playing more roles. Kirk is the father of Tom who has been working on creating a cure for Alzheimer's that will give people the ability to download their memories, he is living in the life of regret for not being around for his son, with his new work being a chance to reconnect at last. James Russo brings us the great broken father here, one that will forever be looking for change. Chloe is the old high school friend that works with Kirk and offers up friendship with Tom during his time of need, while Bruno is the assistant that is thinking more for himself.
Story – The story here follows a young man that tries to rebuild the broken relationship he has with his father by helping him with his latest experiment, only to find himself in the middle of a bigger problem of dealing with the potential of being able to download memories into different minds. This is a fresh approach to dealing with the Alzheimer's research, one that will use technology, we will get plenty of the moral dilemma about what is happening with it, mixing it with the greed people can show. This will end up getting slightly more complicated than it needs to, when we see how the reuploading of the memories in brains.
Themes – Cerebrum is a sci-fi movie that will look at transferring memories in an attempt to battles Alzheimer's where we will get the tech talk, but we don't get involved in the grander scheme of what is going on, as more of the film focuses on the criminal side to what is going on.
Cerebrum is a sci-fi film that will make you think, while there will be a mystery about the greater picture going on.