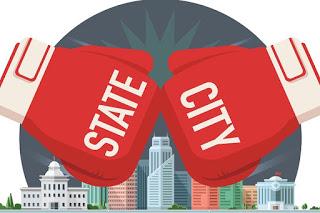 [Cross-posted to Wichita Story]

On Sunday the Wichita Eagle ran two guest editorials--one by me on how state governments push cities around, and one by my friend John Todd on the effort by him and others to get the state to require cities to hold a public referendum before historic buildings like Century II could be torn down. Both essays are essentially about "home rule," though neither ever use that phrase. Let me try to expand on that idea here.

"Home rule" refers to the principle of municipal governments being allowed the ability to fully govern their own residents. Under our constitutional system, the national government and the state governments are assumed to have some degree of sovereignty; no such assumption necessarily holds counties and cities, however. While some have made the democratic argument that any self-identifying and politically recognized community should possess distinct governing authority--a claim with real historical, legal, and philosophical grounding--generally in the United States the opposite has been the case. Counties are understood as administrative arms of the state, and cities, as codified in a principle called "Dillon's Rule," as seen as entirely dependent creations, with "no inherent right of self-government which is beyond the legislative control of the state."
While the legislative record claims that Kansas, after the adoption of the Home Rule Amendment to the state constitution in 1960, has "stood Dillon's Rule on its head," in practice this has clearly not been the case, especially not in recent years. We here in Wichita, the largest stand-alone city in the whole state, know this well. In 2014, the city of Wichita fought in vain a state law overturning local gun control ordinances, thus passing along to cities like our own increased insurance costs as they could no longer legally limit concealed carry in public buildings like courthouses and libraries. The very next year, the state of Kansas sued Wichita to stop from us from following through on a minor local marijuana decriminalization referendum, obliging the city to continue to accept the costs of enforcing invasive drug laws that, on the basis of the referendum, have limited popular support. The tendency of our state government to minimize or outright dismiss local governmental concerns isn't limited to Wichita, of course. For example, the state allows the residents of 101 Kansas counties to choose their own election officials--but when it comes to counties with a significant urban population, such as you see in Kansas City, Overland Park, Topeka, and of course Wichita, the state government insists on making those appointments themselves.
In the jargon of governance, this is often known as "preemption"--the act of a state government taking away options that might be democratically determined by the people who live in and wish to govern themselves locally. It's an issue that is having a bit of moment right now. Governing magazine ran a long piece about how common state preemption of local authority has become over the course of the pandemic, and Strong Towns used it as a basis of their weekly podcast. Of course, the story of the Texas state government going bananas at the prospect of the city of Austin reforming their own police department (which, of course, the city of Austin pays for), has gotten a lot of attention, but don't count Kansas out; as of last month, the Kansas state senate debated a bill that would profoundly limit cities' ability to explore sustainable energy alternatives to natural gas. It may not go anywhere–but considering the Kansas state government's track record (note how the state is currently considering forcing local counties, to which they gave explicit responsibility of managing and enforcing health restrictions during the pandemic, to bear the total, and devastating, cost of those mandates), I wouldn't be surprised to hear it being sent to governor's desk anyway.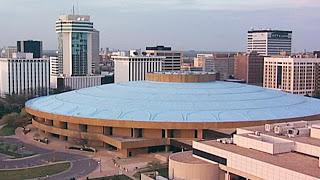 So what do all of these issues pertaining to the limits on the power of local people to govern themselves through municipal or county bodies have to do with the argument over Century II? Because, in that particular case, both sides are, in essence, claiming "home rule" for themselves--though only those opposed to the proposed public referendum requirement are saying so specifically. In fact, Amanda Stanley, a lawyer working for the Kansas League of Municipalities, when arguing against the proposal during a legislative committee hearing in Topeka, called the idea of the state of Kansas requiring that the local populace be allowed to vote one way or another on the fate of historic buildings "the antithesis of home rule." 
That claim does make sense--but only if you set aside the general principle of local, democratic governance, and you think in terms of the institutions which such governance gives rise to. In the case of Wichita, what it has given rise to is a council-manager form of government, with a city manager and a professional staff in control of the details of the city's budget and general policies, and a city council, led (though only formally) by a mayor, which gives approval to and, in certain circumstances, initiates, stops, or gives correction to those policy directions. For those who spoke on behalf of the city in Topeka (including two members of the city council, Republican Bryan Frye and Democrat Brandon Johnson), "home rule" means "rule by the government of the city of Wichita."
Which, of course, we have, for all the reasons listed above, precious little of, whatever the formal proclamations of the Kansas state constitution. It seems reasonable to city leaders, whose hands are already tied in so many ways, to not have the tied any further by yet another state mandate. But this would be a state mandate connected to local democratic action, would it not? Local voters deciding on whether or not a proposal which involves the destruction of a beloved (by some, anyway) old building should go forward--that's not the same as the earlier examples of preemption, is it?
It clearly isn't, and that's part of the problem here: knowing exactly where real democratic empowerment lies. In some ways, those who spoke for the city really tipped their hand in an anti-democratic direction; when they testified in Topeka that the voters of Wichita (or wherever) lack sufficient training or experience "to make rational choices regarding the maintenance of such buildings," the condescension is so thick you could cut it with a knife. But are they wrong? Not necessarily; part of the whole reason we have a representative systems of government is because it has become accepted as more or less obvious that, when societies (whether we're talking about cities or countries) become large and complex enough, mass democratic politics--government by plebiscite, in other words--becomes a risky project, particularly when complicated and long-term problems demand resolution. Not that direct democratic resolutions will always be wrong; the anti-populist terror most Americans are schooled in regarding the "tyranny of the majority" is too often a tool to make certain that the poor never fundamentally trouble those in power. But nonetheless, the institutions of representative government serve a valuable civic purpose, balancing distinct needs and forcing compromises over contentious issues. Those who take on the difficult, often thankless task for trying to organize, serve, and lead our city through our institutions can't be blamed for seeing public referendums like this as an additional complication of their jobs.

Maybe the problem, then, is their jobs themselves. Because, as I noted above, the institutions of our city government actually do not, for the most part, have the kind of power and responsibility which would enable them to balance distinct needs and force compromises. On the contrary, too often issues are laid out to them by the city staff in ways which foreclose any truly fundamental political arguments over priorities, with the members of the city council, including our mayor, rarely being able to enlist the kind of democratic support for any particular matter facing the city so as to challenge the broad determinations which the city manager's office has already made. What this means, in practice, is that historically in the city of Wichita, the only voices which have regularly tended to emerge so as to influence the direction of city policy are those already friendly to construction, development, the expansion of the city's built environment--the "growth machine," in other words. And after watching our city council either embrace or at least acquiesce to such growth-friendly (though hardly necessarily sustainable) calculations when it came to our baseball stadium, and fearing the same pattern being followed when it comes to the whole Wichita Riverfront, it makes sense for concern citizens of Wichita to want to make an end-run around these institutions, and appeal directly to the state in the name of their (potentially) populist and localist project.
Still, it's a risky proposition. In the aforementioned Strong Towns podcast, Charles Marohn, the founder of Strong Towns, looks at a situation in California today, where you see something comparatively rare--while usually it is Republican-dominated state legislatures preempting cities which tend more Democratic, in California is it a Democratic-dominated state government preempting the options available to cities. In California, a state-wide--but certainly not universal throughout California's cities--consensus about the problems with single-family zoning has emerged. This is an issue dear to ST's heart: privileging single-family zoning artificially imposes a suburban model upon development which is bad for the environment, bad for social and physical health, bad for housing costs, and most of all, very bad for the fiscal liabilities which cities must carry. Every city ought to severely limit single-family zoning! (To its very small but still real credit, the city of Wichita's Places for People plan may at least begin to introduce an escape from these commonly locked-in zoning requirements.)
But if every city in California ought to limit single-family zoning...should the state of California therefore mandate that the cities of California limit single-family zoning? Or since the costs of development, the liabilities of paying for streets and sewers, and, yes, the lure of construction jobs and population growth are all matters particular to cities, should decisions about zoning remain with them? Chuck Marohn admits--beginning at around 11:30 in the podcast--that as much as he's convinced that this is policy is the right one to follow, he's doubtful of the wisdom of states actually preempting local zoning decisions. In his view, the ideal of subsidiarity--of determining the most appropriate level for making decisions, and giving to that level the power and authority to make the decisions accordingly--while lacking in efficiency, is far better for real democratic legitimacy. Hence, rather than appealing to the state, even in the name of something which would enable and empower local democratic concerns, organize politically on the city level, and make the needed changes there. For all the reasons he mentions, I have to say I agree.

And so we come back to the city of Wichita, a city that--almost uniquely among all American cities of its size and situation--maintains a manager-council form of government, with a nominally (but of course not actually) non-partisan and part-time (exhaustively so, as any councilmember will admit) city council that is both too small and too under-staffed to effectively and democratically articulate and represent and fight and compromise over the divided desires of its citizens. Should the efforts of Save Century II, rather than appealing to the already much-abused preemptive proclivities of our state government, be focused on organizing around, campaigning for or against, and otherwise working with and seeking influence over the institutions of Wichita's city government? Yes, they should; that's the best local democracy that we have available. But given the deep structural problems and limitations of our city government as currently constituted (where what ought to be a straightforward discussion of ethics can get derailed by the supposedly horrendous possibility that the mayor has brought "big city politics" into the council!), do I blame them for seeing our city government as a possibly unreliable institution, perhaps incapable of holding to whatever a majority of voters may charge them to do, and instead seeking a state-level run-around? I have to admit: I don't blame them one bit.