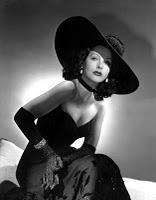 NPR interviews Richard Rhodes about his new book
,
Hedy's Folly: The Life and Breakthrough Inventions of Hedy Lamarr, the Most Beautiful Woman in the World
.
'Mann's Inhumanity to Mann': Frederic Raphael reviews Evelyn Juers'
House of Exile: War, Love and Literature, from Berlin to Los Angeles
.
Aaron Thier reviews the same book on Heinrich Mann et al.
An excerpt from Umberto Eco's The Prague Cemetery. A review of Eco's book by Scott Kelly in the
Scotsman
, and one by Benjamin Balin in
Haaretz
: 'Conspiracy theories and intense historical settings are Umberto Eco's forte, and here he turns his attention to one of history's most persuasive and destructive false texts - with mixed results.'
'[Rosa] Mayreder's title alone reads as a challenge to [Otto] Weininger's ... woman-hating bestseller
Geschlecht und Character
(1903), a title rendered as
Sex and Character
in English but that should really be translated as Gender and Character.
Mayreder took a position against Weininger in her earlier A Survey of the Woman Problem [c. 1913] as well, a position she developed further in Gender and Culture [1923] to explain misogyny in Western culture
as a historical phenomenon which she based on an abhorrence of the body and sexuality that had grown out of Christianity.'
Jiri Travnicek on Brno's literary history (mostly Czech literature post WWII) -- he mentions two stories about his home town by Milan Kundera.
'Had [Czeslaw] Milosz been there, said [Artur Sebastian] Rosman, he might have repeated his claim that his readers don't "take into account a particular, quite fundamental fact: all my intellectual impulses are religious and in that sense my poetry is religious".'
From Astra Scheib's interview with Thomas Bernhard
: 'I also cannot bear people applauding. Applause - actors are paid in such a way. They earn their money in such a way. I like it when the money from my publisher arrives on my account. But marching music, hosts of applauding people in the theater or in the concert -- I can't bear that. Nothing but disaster follows from applause.'