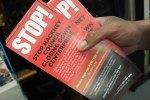 I've written about the threat to the Centerprise black bookshop in Dalston before, most recently last November, and sadly the 40-year-old charity continues to fight for survival. It's plight is more serious than ever, with Hackney Council winning a court ruling ordering Centerprise to shut its' doors and hand in the keys.
And all this during Black History Month.
Centerprise have appealed the ruling and increased its' offer of rent to £12,000 per year having had an initial offer of £9,000 rejected. Historically the bookshop has paid a peppercorn rent of just £10 per month in an arrangement with the Council. However the Mayor, Jules Pipe, has taken advantage of the fact that no binding legal agreement guarantees this peppercorn rent in perpetuity.
Hackney Council's actions are a disgrace. They should respect the fact that the bookshop – one of the last remaining specialist black bookshops in London – is providing a valuable service to the community and has always enjoyed a favourable rental agreement. To tear this up and seek to have the charity evicted is unforgivable.
And then to reject an extremely good rent offer – from an organisation that invests all profits back into the community – shows that the Town Hall is pursuing an agenda to get rid of the bookshop from its' prime High Street location in an increasingly fashionable Dalston that has become over-run with trust-fund bohemian-types in recent times.
The Hackney Citizen reports:
A threatened multicultural bookshop has increased its rental offer to the council in an attempt to avoid closure.

Dalston shop Centerprise, a hub for black literature and arts on Kingsland Road, is under threat of being shut down after Hackney Council increased its rent.

The bookshop, which has been paying a peppercorn rent of £10 a week, now faces a £37,000 per year charge – a much higher rent rate which would cripple the charity.

The shop made an initial offer of £9,000 to the council in February but this was rejected. Emmanuel Amevor, Centerprise's chief executive, confirmed a higher offer of £12,000 was made to the council last month (September).

Mr Amevor, who hasn't yet had a response from the council, said: "It seems like they are not interested in any offer we make. They're trying to accuse us of not working with them to find a solution."

Given the legal costs of a court case would be £20,000, which would force the trust to close, Mr Amevor is keen to negotiate with the Town Hall to avoid a hearing. He said: "The council seem to be giving the impression we are not willing to settle out of court, which is very strange. It's like they just want to wipe us out.'"
So, in other words the charity have offered to pay 20 times more rent to the Council than they have currently done but the Town Hall want them to pay over 70 times more rent, a 7,000% increase.
It is clear the bookshop cannot afford to pay these rents and will therefore be driven out of business. As I wrote last November:
The bookshop has resisted renegotiating a lease that would have hiked up rent to potentially unsustainable levels that would have threatened its' existence anyway.

Hackney Council argues that such favourable rent conditions are out of step in an increasingly fashionable Dalston which is rapidly becoming a mecca for 'lovies' and bohemian-types, pushing up market rents.

Centerprise occupies a large building on the High Street that has remained largely unchanged for ages, seemingly oblivious to the fashion and trends taking place around it.

To step into the building is to enter another time period, where consciousness and friendliness blend effortlessly. Where performances and events take place, and where you can eat a tasty Caribbean meal for a very reasonable price.

Most importantly, it is a gem of a bookshop where every aspect of African consciousness, spirituality and history is catered for. It is a great place to browse, and you might even get a discount if conversation at the till goes well.

It is truly a community centre in the widest and deepest meaning of the words. It may not be sate-of-the-art, but neither does it come with high room hire rates or fussy, uptight managers that some modern buildings have.

A lick of paint and dusting wouldn't go amiss but the slightly cluttered, mildly chaotic feel is part of Centerprise's authenticity. And any downsides are more than compensated by the amiability of staff and volunteers who understand the struggle and look like they've had their own fair share of it themselves down the years.
We await the outcome of the appeal, but right now it doesn't look too hopeful. I would urge everyone to sign this petition to show community support for Centerprise, and visit the charity's website here.
Previous articles:
Don't Lose the Prize 
Spurs riot cash could help save centre
Stay of execution for Centerprise bookshop (Update: 16/11/11)
By Lester Holloway