Celtis caucasica (18/10/2014, Real Jardín Botánico de Madrid)
Position: Full sun to partial shade
Flowering period: Spring
Soil: Moist, well drained
Eventual Height: 15m
Eventual Spread: 10m
Hardiness: 5b, 6a, 6b, 7a, 7b, 8a, 8b, 9a
Family: Cannabaceae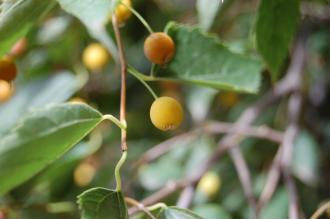 Celtis caucasica Fruit (18/10/2014, Real Jardín Botánico de Madrid)
Celtis caucasica is a long lived deciduous tree with a rounded habit. Its dark green leaves are ovate to ovate-lancelate with serrate, up to 10cm long and 5cm broad. In autumn its leaves turn pale yellow before they fall. Its grey bark is smooth with occasional fissures. Its green flowers are hermaphrodite, appear singularly or in clusters and wind pollinated. Its fruit are a globose drupe which are initially yellow, maturing to red/ brown, up to 7mm across and appear in autumn.
Celtis caucasica, commonly known as the Caucasian Hackberry or Caucasian Nettle Tree, is native to south east Europe and the north Himalayas region. In its native habitat it grows in woodlands.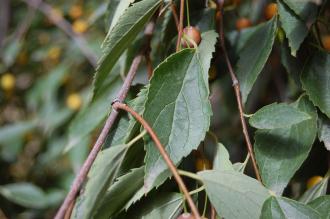 Celtis caucasica Leaf (18/10/2014, Real Jardín Botánico de Madrid)
The etymological root of the binomial name Celtis is from the ancient Greek meaning 'a tree with sweet fruit'. Caucasica is derived from the Latin meaning 'from the Caucasus'.

The landscape architect may find Celtis caucasica useful as an attractive medium sized tree with attractive autumn colour. Once established this tree is drought tolerant. It is tolerant of urban pollution. This tree coppices well.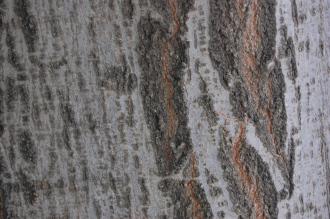 Celtis caucasica Bark (18/10/2014, Real Jardín Botánico de Madrid)
Ecologically, Celtis caucasica berries are attractive to birds and mammals.
Celtis caucasica prefers moist, deep, fertile, well-drained soils. It tolerates most pH of soil. It will tolerate poor soils.
Celtis caucasica requires little maintenance.