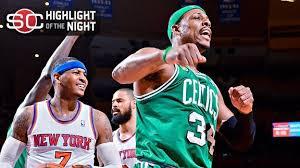 See, this is why I can't turn away.  I'm almost embarrassed that I wrote this team off a few days ago.  All it took was a couple of gritty games and I'm back to chugging the kool-aid. How can you believe that the Celtics need to "blow it up," and start over after these last two games?  Brink of elimination? Not a problem bro, we'll just dig a little deeper and take one from the Knicks in MSG.  Now we get to go back to Boston for Game 6?  Are you kidding me?  Hey, New York, just start making plans for Game 7 because it's going to happen.
Now that I've gotten that out of the way, let's be honest.  I didn't see this coming and most "experts" have said they still don't think the Celtics prevail.  I probably agree with them, though I'm a little more confident after these two games.  The issue?  The Celtics stars have played big minutes to win these two games and there's a chance they may run out of gas, which they seemed to do in the 2nd half of the first four games.   But they are a veteran team that knows how to win and the Knicks are banking on two wildcards to lead them to the next round.  Melo and JR are phenomenal scorers and when they are hot it's almost impossible to stay with them.  But when they're not, we've got a puncher's chance and right now we're gearing up like Tyson in his prime.  There's no doubt that KG and Pierce smell blood.  They know that their careers are on their last legs.  Hoping for one more run it's apparent they're not going down without a fight.
And this altercation between Jordan Crawford and Ray Felton tells me all I need to know about the Knicks psyche right now.  Why would Felton even give Crawford the time of day?  Crawford plays about 17 seconds a game.  Felton needs to be a leader instead of trying to pop Crawford because he said something.  That's amateur hour by Felton all the way.
P.S. How bad ass is Doc Rivers?  (24 second mark) Just getting into one of his players for hanging around.  Wait, is that Fat Melo?  If it is, how'd he get a warm up?  There better not be a jersey underneath that warm up!