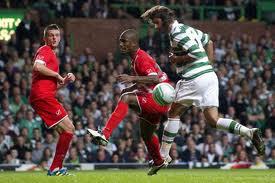 Celtic will need to take opportunities like this come Thursday evening
Celtic go into their 2nd Europa League group fixture on Thursday with a depleted back line due to injury and ineligibility and also a severe lack of confidence . Johan Mjallby has come out and publicly criticised goalkeeper and back four following Saturday's game against Caley, hoping to get a reaction perhaps and musing that mistakes like that will be punished in Europe.
Even though following their decision to rest Di Natale http://www.celticnewsnow.com/news/Udinese-to-travel-without-Antonio-Di-Natale/29329?utm_source=twitter&utm_medium=social&utm_campaign=TwitterFeed , Udinese have plenty in reserve to take advantage of the Bhoys weak and slow defence. Majstorivic was again at the heart of many of the lapses at the weekend and his partnership with experienced Dutchman Glenn Loovens was nothing short of a comedy double act at times. No matter how many European, International or Glasgow derbies these guys encounter – a lot of the time you could be forgiven for thinking they had just met in the tunnel and forgot the essential qualities a defender has to possess.
With that in mind, Celtic, as Gary Hooper rightly pointed out, need to treat this match like an SPL game and take the bull by the horns and the middle & final thirds of the pitch. A player who would relish this opportunity to take the game to the Italians is Kris Commons who Mjallby has also revealed is suffering from a bug and will sit out the tie – the Scotland international has missed the last three games with a "groin injury" even though he advised his fans via twitter he was fit to play against Rangers. Hopefully the player to step up the mantle will be free scoring youngster James Forrest who added to his double at Motherwell at the beginning of the month with another good strike in Saturday's win – my Lennoxtown mole is an avid admirer of Forrest and has noted on several occasions his striking is in his opinion the most powerful at the club and could be his secret weapon for continually making it at this level.
Whether Celtic can get their noses in front is another question – Udinese have only conceded two goals in all competitions so far this season & one of them came against free scoring Rennes in then first round of games in Europa League Group I.  The old adage regarding Italian teams being hard to break down seems to bear some fruit here and the fact that following their scouting trip on Saturday, Udinese have left out a couple of their top stars shows that Celtic being able to compete with the best at home in Europe is no longer a danger which opponents fear. I feel an early goal and  prolonged period of pressure will need to be put into effect on Thursday, this will get the crowd behind the bhoys and also ease the pressure on the defence which has been hamstrung by early goals in Europe in recent years.