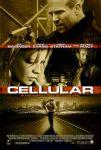 When Ryan has a very strange home all on his mobile phone from an older woman Jessica Martin at first he thinks its a prank but when she claims to have been kidnapped his is brought into the very dangerous situation as her husband and son are both at risk.
⭐️⭐️⭐️
Cellular doesn't take very long to get into the high paced action thriller as Ryan gets the phone call and is not sure whether to believe Jessica. When he realises that it is very serious he becomes emotionally involved and the lack of help from the police when Sgt Bob Mooney believes it is a hoax after heading to the family home and a woman claiming to be Jessica.
Ethan is leading the group that are trying to track down Jessica's husband Craig. The reasons behind this is rather uncertain and it does have a pretty good twist to who Ethan and the people with him really are. It certainly makes it all a little bit more interesting that was for sure.
Thinking back to 2004 and how we started to become rather obsessed with our mobile phones (cellphone for those in the US) this film was probably a little bit ahead of the curve in terms of showing how useful they could be, I'm thinking about the camera and using the phone to make a copy of the video. Obviously the way technology changes so fast this looks dated with the flip phone but it does take away the suspense that was built up.
Performances were decent and Chris Evans leads in a very good manner it has to be said, considering it appears to be his first leading role I'm pretending Not Another Teen Movie doesn't really exist but I am sure that is absolutely fine. I guess it shows that he had the potential for the action. Then we have Kim Basinger who is given a dark room on her own for the majority of her scenes and that is something that actually gives her the opportunity to put in a good performance. Jason Statham is more support but certainly has a very big part of play in the plot and basically we always know what we are going to get with him and I personally don't find that to be a bad thing at all.
Considering I had not really heard of this film before watching it, I found myself rather enjoying it and that is what we want from a film right? I really liked the plot twist and why a group were trying to find Craig certainly raises a few points and to have watched it with everything going on with the police in America at the moment was a little bit strange I guess.