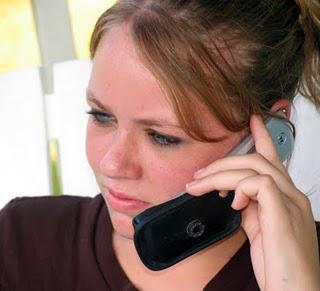 I am posting this story for two reasons:
1. Obviously we want to keep ourselves healthy and happy in order to take good care of our children and to live long enough to see our grandchildren. 2. Kids are getting cell phones at younger and younger ages. If their brains are still developing and they are putting something that can cause can cause cancer on their head.. that can't be a good combination. 
FROM NBC: The World Health Organization said today cell phones could cause cancer. The group's cancer agency has reviewed evidence and says an increased risk of a malignant type of brain cancer cannot be ruled out.The World Health Organization is labeling cell phones as "possibly carcinogenic." At the same time it said a link has not been clearly established that cell phones do cause cancer in humans. Cell phones are in the same category as dry cleaning chemicals and pesticides, according to the WHO. A group of 31 experts reviewed studies on the health effects of radio-frequency magnetic fields which are emitted by cell phones.
-NewsAnchorMom JenSkin Dimensions, SB products are manufactured with Pharmaceutical-Grade ingredients. Products are not just "Feel Good Products," as they contain unique and innovative ingredients in concentrations that can assist you in the achievement of your own personal skincare objectives. Our products contain higher percentages of Glycolic, Vitamin A, C, E, Co-Q10, green tea, than what you can usually purchase over the counter.