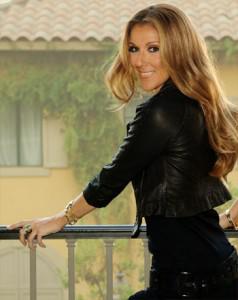 Céline Dion is back in Sin City – and she's bringing her family with her!
After a run of over 700 shows at Las Vegas's Caesars Palace in the last decade, the singer returned the "room that Céline built" Tuesday with a new show – one the prominently features her three children, René-Charles, 10, and the recently baptized twins Nelson and Eddy, whom she called "a gift from heaven."
"I've been an open book all of my life," she said Tuesday. "There is no way for me to come back here and not share my most precious thing."
"The world knows I just had two more beautiful babies," Dion said. "If I come here and I don't sing a lullaby or do not show one picture with my family, I think it's going to be missing something. I love to share my private life."
Unlike her previous Vegas show in The Colosseum which featured dancers, Dion's new show is all about her – and features a 31-piece orchestra.
Though her new twins weren't in the audience for Tuesday's debut, René-Charles sat in the orchestra section with his father, Réne Angélil.
"What I didn't understand until I became a mother was the power, the strength and the beauty of the love of a parent for a child. In fact it knows no boundaries," Dion said before a video montage featuring home videos of her family. "It is endless and it exceeds everything else."
While singing her hits, Dion sprinkled in many cover songs from Journey, Michael Jackson and Billy Joel. She later said the show takes a bit of a toll on her, considering she gets little sleep raising newborns – not that she regrets it.
"Growing up with three little boys, I mean, four," she said, joking about her husband. "All that love for a mom. What a blessing!"