The sun is shining brightly and a cool morning breeze tickles the gathering crowd as Chef Ian Winslade of Murphy's restaurant peels and chops an little known vegetable for his Celeriac And Golden Beet Remoulade.  On this sunny Saturday, Chef Winslade has stepped out of his kitchen on the corner of Virginia Avenue and North Highland Avenue to demonstrate how to cook with fresh, organic vegetables at the Morningside Farmer's Market.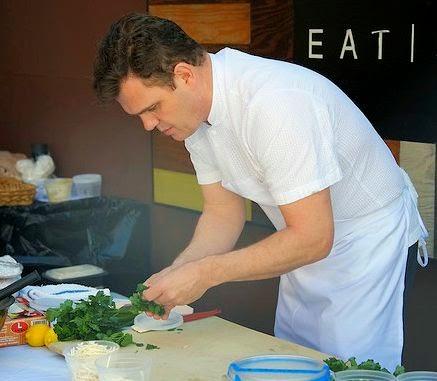 Chef Winslade is a major advocate of the farm-to-table movement and strives to cook with locally-sourced ingredients as much as possible. He currently works with four local farms to provide fresh produce for the restaurants explaining that the further the ingredients must travel, the less healthy they are due to the processes used to prolong their shelf life. Chef Winslade plans his menus around four distinct seasons and likes the challenge that working with what is available locally each week, "It forces me to constantly be flexible and think about workable flavor combinations." He continues in his velvety British accent, "Last year was particularly challenging due to the unseasonably wet Spring. We had planned for a glut of zucchini and tomatoes that never really came in, and our menu reflected those shortages." Current menu items for Spring include fresh peas, fava beans and morels.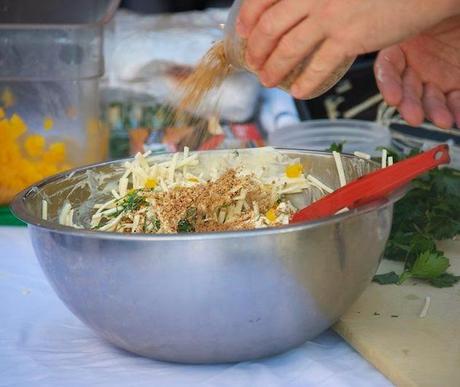 Celeriac and Golden Beet Remoulade 
3 cups celeriac root, julienned
Juice of one lemon half
4 tablespoons mayonnaise
2 tablespoons Dijon mustard
2 tablespoons crème fraiche
2 tablespoons parsley, chopped
1 teaspoon pecans, toasted and chopped
½ cup golden beets, cooked and finely diced
3 tablespoons champagne vinegar
Remove the tops from the celeriac, these can be chopped and added in lieu of/in addition to the chopped parsley. Rinse and peel the celeriac and then julienne. The shreds should not be too fine, nor should they be thicker than a matchstick. Chef Winslade suggests using a mandolin the thinly slice the celeriac then slice again into matchstick-sized pieces. Toss them immediately with the lemon juice in a large mixing bowl. Cut the beets into a small dice and add to celeriac.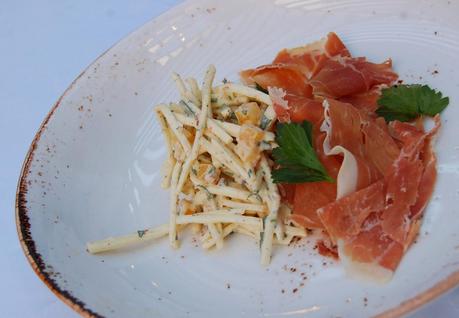 In a separate bowl, combine mayonnaise, Dijon mustard, crème fraiche, and chopped parsley (and celeriac tops if using.) Fold dressing into celeriac and beets. Season with salt and pepper to taste and set aside for 30 minutes to marinate. Chef recommends serving the salad with slices of thinly sliced prosciutto.
To read my full interview with Chef Ian Winslade, please visit http://vahi.org/catching-up-with-murphys-chef-ian-winslade.