Even though I graduated from a catholic high school, I've been continually told that I am going to hell in a handbasket. I just don't understand why they charge all that cash money to go to catholic school if they don't give you a "Going to Heaven" voucher.
Anywho, in preparation for my trip to the hot tropical island they call hell, I've been thinking about what celebrities I will most likely bump into on my "vacation."
Disclaimer: I'm not saying these celebrities are definitely going to hell, just that I might bump into them. Please don't sue; my counsel is still in law school.
Tommy Lee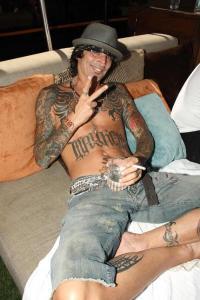 Photo Courtesy: vegasnews.com
First of all, I feel like I've been living a lie. Did anyone else know Tommy Lee's last name was Bass? I wonder if he has any relation to the Bass that was in pop supergroup 'Nsync…
Anywho, this strapping middle-aged man has fulfilled the quota of things to accomplish in order to be ordained a "bad boy."
Tommy was in a rock band…Mötley Crüe
84.7% of his body is covered in tattoos
He's been divorced three times (on par with J.Lo). Ex wives include: Elaine Bergen, Heather Locklear and Pamela Anderson
Served 4 months in the big house for pleading no contest to kicking (not kidding) Pam while she was holding one of their children
The final nail in the bad boy coffin…the leaked sex tape
Since I plan on partying for all eternity, it would be good to have someone like Tommy Lee around. I'm sure he can throw a kickass social gathering and I wouldn't mind looking at Tommy till the end of time.
Kathy Griffin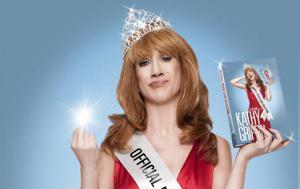 Photo Courtesy: bighollywood.breitbart.com
Hailing from Oak Park, Illinois, we all know Kathy as the comedian who makes a living by ripping celebrities to shreds. Make no mistake, Kathy has paid her dues and you can read about every single one in the autobiographical tale, "Official Book Club Selection."
Kathy has gotten herself into some hot water by flapping those gums. She basically says whatever she wants…that's why I love her. A few of the controversies Kathy has stirred up include:
A ban from "The Tonight Show with Jay Leno" and being rebanned from "The View"
Getting fired from red-carpet interviewing duties by E!. The D-List star made a remark about Dakota Fanning entering rehab…at age 11. That was obviously a joke…no need to get fired over.
I think what really put the icing on the devil's cake for Kathy was her 2007 Emmy acceptance speech. The comedians reality show, "My Life on the D-List" made her Emmy dreams come true. Kathy stated, "a lot of people come up here and they thank Jesus for this award. I want you to know that no one had less to do with this award than Jesus. He didn't help me a bit…" Def not the way to get through those pearly gates.
Kathy – I LOL at everything that you do. Don't let the haters bring you down.
Colin Farrell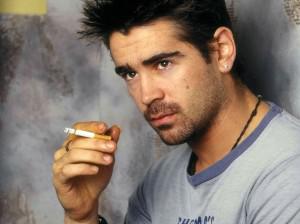 Photo Courtesy: thehunkies.com
I fully believe this man inspired Britney's lyrics for her cameo on Rihanna's "S&M (Remix)." The part I'm referring to is when she sings "Just one night full of sin/Feel the pain on your skin." Why do I say this?
Remember that time back in 2003 when these two lovebirds were spotted together. While Colin said "we're just mates and we're not dating," that doesn't mean other things didn't occur.
Besides that, Colin has a few more indiscretions on his record:
Propositioning Dame Eileen Atkins for sex. Mind you, she was 70 at the time. She turned him down and Colin has no shame admitting this
A stint in rehab for his addiction to pain killers, among other drugs
Filming a movie with his ex-girlfriend, Nicole Narain that was supposed to be private (wink, wink). When are they going to learn, these things never stay private. Colin ended up suing Narain for allegedly leaking the tape
Farrell was also sued two times for sending demeaning messages to Dessarae Bradford. Did I mention what Dessarae's occupation was? She was/is a "telephone sex worker"
Colin – I certainty wouldn't mind running into you while in hell. Hopefully we will both be at the bar. If you decide to buy me a drink…I won't say no and I won't bring up the time you harassed a telephone sex worker.