Kate Winslet & Leo DiCaprio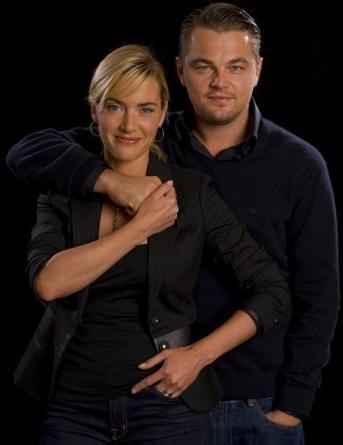 Photo Courtesy: fanpop.com
For my final installment of the celebs who would match on Match.com series, I have chosen…Kate and Leo. Not a big surprise and I'm pretty sure I'm starting to sound like a broken record. Why do I keep bringing this up? I just don't understand why these two soul mates are punching Cupid in the face and denying their love. I would like some answers, that's all.
We first saw this meant to be pair in the most epic film of our time…"Titanic." I'm going to guestimate here, I believe 1 in every 2.3 people have seen this movie. Therefore, I don't feel the need to delve into that part of their relationship. But I will link to a clip because I have given a lot of my time to this film, so I believe everyone else should as well.
I do have to get this off my chest…Kate – I hope you flubbed the "Jack, I'm flying" scene many times (on purpose) for the sole fact that you could continually make out with Leo in that position. If you'd like to call me and fill me in on the hot gossip, I'd be willing to listen.
Fast-fowarding to 2009, Kate won a Golden Globe for her role as April in "Revolutionary Road." If you haven't heard of this film, I will give you a brief background. First and foremost, Leo played Kate's husband in the film…I really wish they would stop pretending already. Anywho, this film chronicled the budding romance and marriage between Frank Wheeler (Leo) and April Wheeler (Kate). Warning: It's pretty depressing and will probably make you reconsider marriage in the future.
Back to the Golden Globe…Kate gives a shout out to Leo and says, "Leo, I'm so happy I can stand up here and tell you how much I love you and how much I've loved you for 13 years…" The camera shoots to Leo and he blows Kate not one, but two kisses.
While promoting "Revolution Road," these two lovers have said wonderful things about each other:
Kate told "Entertainment Weekly," "I hadn't realized how much my chemistry with [Leo] since `Titanic' would still stick. It's great to discover we can just slip right into it (hehe), like muscle memory."
Leo told "Esquire," "Kate Winslet is one of my dearest friends. We have the ultimate trust in each other and the best intentions for what we want to do. I knew Kate before Sam even met her."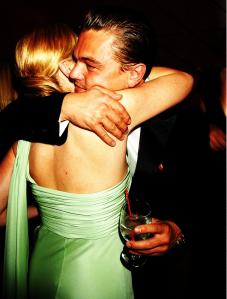 Photo Courtesy: fuckyeahkateandleo.tumblr.com
Moving onto the Oscars…finally God gave the world a gift we have been waiting many, many years for…Kate Winslet won Best Actress for "The Reader."
Now we all know the Best Actress Oscar curse is real and it inevitably snuck up on Kate. Shortly after her big Oscar win, Kate and her husband (Sam) announced they were splitting up. Guess who was there for Kate through the sad times…Leo!
First Date Location: Maybe wining and dining on a yacht…they could make out shamelessly on the bow of the ship. Since Kate is a classy lady, Leo would drive/escort her home. We all know how much Kate likes backseats…oops can't say that!
I really don't think I have to give any more evidence as to why these two need to man up and admit their undying devotion to each other. If necessary, I will go to church and light a candle everyday for you two. Someone let me know if I need to do that.