I keep seeing these Match.com commercials which state that "1 in every 5 relationships begin online." These days, online dating is becoming the norm…one reason why…we are busier than ever. This got me thinking that since celebrities are some of the busiest people, they might benefit from hopping online to find a date or whatever they're into. I've decided to compose a post on which celebs would match up on Match.com.
Rihanna & Drake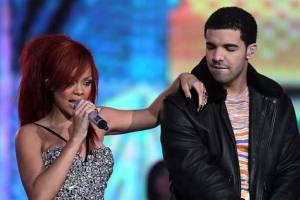 Photo Courtesy: popcrush.com
As we all know, Beyoncé and Jay-Z currently hold the crown as royal couple of the hip-hop/R&B genres. Rihanna and Drake will have to settle for the princess and prince spot …for now.
These two are meant to be and they are slapping us in the face with their love every time they are within 10 feet of each other. If you've ever watched Rihanna's video for "What's My Name?" it's like watching a newlywed couple…equally gross and cute…for us single ladies…more gross than cute.
While these two briefly dated last year, they decided to hold off because of that dumbass Rihanna previously dated (still haven't forgotten Chris Brown). Rihanna also tried to date that sports guy, but he obviously wasn't on her level. Hint, hint Rihanna…read the writings on the wall…they say DRAKE!
A few months ago, I heard these two lovebirds were spotted making out in Montreal – Drake is from Canada after all. Hopefully he took RiRi to meet the parents and got this ball rolling. Following the Montreal incident, it was reported that these two want to focus on their careers or want to date around or not in a place to commit…what I'm really hearing is blah, blah, blah. Stop beating around the bush and get it together!
Rihanna – I think Drake can go downtown with a girl exactly like you…he will make you feel like the only girl in the world.
Don't fret – I'll add more couples who would match up on Match.com throughout the day.