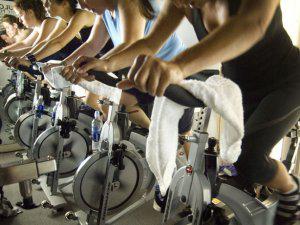 Photo Courtesy: wellandgoodnyc.com
Wednesday afternoon I participated in my very first spin class. For those that haven't had the pleasure of being involved in such a class, I will share with you a few memorable moments:
I was on a bike for almost an hour pedaling my face off
Not only do you pedal while sitting down…you stand up and pedal. Don't let them fool you…it's a bitch
There is an instructor who screams commands at you…like a drill sergeant
It's been over 24 hours and I can't walk up or down stairs. And I probably won't be able to have children after becoming intimate with a bicycle seat
Now I'm not saying I didn't enjoy this workout, because I really appreciate any activity where another person is yelling "95 percent" and "give me four turns to the right." And by right, the instructor meant more resistance…thanks for that.
This spinning experience got me thinking…what celebs would be excellent spins instructors – trainers – life coaches.
Jane Lynch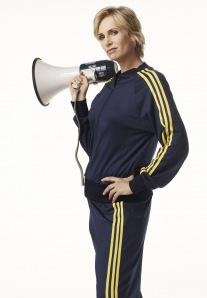 Photo Courtesy: collider.com
I'm about to say something blasphemous…I do not watch "Glee." I can hear the gasps already.
I say this because even though I do not watch the show, I still picture Jane in her trademark tracksuit yelling commands and blowing a whistle three inches from my face while I'm struggling to pedal a bike.
I think the reason why I associate tracksuits with pain is because of my catholic school days. Back in elementary school I had a gym teacher who very closely resembled Jane's "Glee" character. There was one difference, my gym teacher wore the tracksuits that made the swoosh sound whenever she walked. I still hear that sound in my nightmares.
I choose the "Glee" star for a few reasons:
Jane isn't afraid to say whatever is on her mind
She is hil.ar.ious and everyone needs a good laugh during and/or after working out so severely. If you don't laugh, you'll cry…trust me
Jane seems like a good motivator…I mean she's 6 ft. I'm not saying no to her
She doesn't give up easily. For example, Jane's been active in acting since 1981
She's a slight hard ass. Watch video below for proof:
Jane – Spinning is on Wednesdays at noon. It's BYOJ (Bring your own jams). I can't wait to spin to the Olivia Newton John classic "Let's Get Physical."