Lead Pussycat Doll…on to the next one?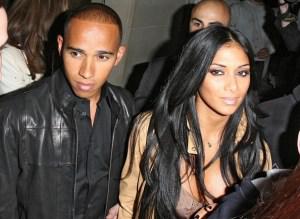 Photo Courtesy: zimbio.com
Rumor has it that Nicole Scherzinger kicked her bf of 4 years to the curb. Really, it seems like it was a mutual decision but Nicole def wears/wore the pants in the relationship. You see how she dominates the other Pussycat Dolls, right?
According to People.com "They'd been long distance for a long time and it's just been hard," a source close to the couple said. Nicole has been a busy woman…kicking ass as lead Pussycat Doll, winning the Mirror Ball trophy on "Dancing with the Stars" and more recently judging others on "The X-Factor."
As for her (maybe former) bf, Lewis Hamilton, he is a British Formula 1 racecar driver. His cute ass gets to travel all over the world racing cars. It's easy to see why the long distance could have put the final nail in this coffin.
What's interesting is that "Access Hollywood" is reporting that the breakup rumors aren't true. "A source told Access on Saturday there was 'absolutely no truth' to the story about the pair breaking up." Hmm.
Lewis – you would be dumb to let Nicole get away. Have you seen the "Buttons" video? I would give my entire left arm to be that on point.
Moroccan and Monroe meet Baba Wawa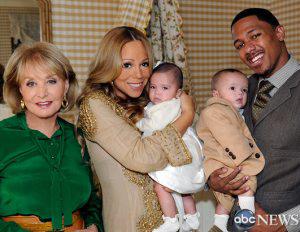 Photo Courtesy: pointemout.com
Remember when Nick Cannon hit the jackpot? Let me refresh your memory. Nick married Mariah Carey, got her pregnant and is allowed to hold the umbrella over her when it's raining…he's so lucky.
On April 30, 2011, the long-awaited twins were born! They were also given umm interesting names… Moroccan and Monroe. It's been about 6 months and I (along with the rest of the world) haven't gotten a glimpse of these babies! Personally, I was losing sleep over this.
This past Friday, pictures were (finally) released of the Carey family…twins included. And of course Baba had to sneak her way in there.
Mariah and Nick were interviewing with "20/20" and the twins made their way on set. I'm excited to see what hard-hitting questions Barbara asked the babies.
What's more important is that the twins have their own website…yes a website. Titled after a nickname Mr. and Mrs. Carey gave their babies, Roc and Roe's website is Dembabies.com. No, I'm not kidding. The site is basically pictures of the twins in various positions with Nick and Mariah.
I wonder if the twins will have alter egos like their mom does…remember The Emancipation of Mimi? I certainly do.
Lohan in cuffs again…and not in the fun way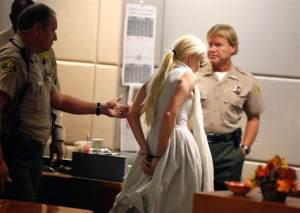 Photo Courtesy: today.msnbc.msn.com
You may have heard that Lohan screwed up again, got her probation revoked and was cuffed in the courtroom. Of course she was immediately released on bail…because Lindsay's personal bail bond guy was in the courtroom!
What caused the "Mean Girls" star to be arrested again? Lindsay just didn't feel like showing up to the Women's Center where she was supposed to be serving out her probation…9 times!
At her hearing, Lohan was ordered to complete sixteen additional hours at the LA County morgue before her Nov. 2 hearing. She could also get up to a year and a half in the clink, but that's highly unlikely…overcrowding and such.
Yesterday, Lohan made her way to the morgue and worked an 8-hour shift! She also sent over cupcakes and food from the fast food palace In-and-Out (a Paris Hilton fav) to say she was sorry.
According to TMZ, Assistant Chief Coroner Ed Winter turned away the cupcake delivery guy because the move was simply, "unacceptable," and adding, "We're not here to accept food."
O0o0o burn.