Lady Gaga is dead…just kidding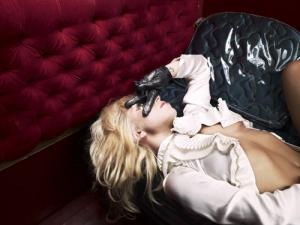 Photo Courtesy: ladygaga.com
Gaga has joined the ranks of Tom Cruise, Jeff Goldblum and even Lindsay Lohan.
I have to make a comment about Lohan. These online rumor spreaders said she kicked the bucket from an overdose…now that's just way to believable. At least make up an interesting story like when Tom Cruise stumbled down that mountain in New Zealand.
If this cruel Gaga rumor was true, I'm pretty sure the world would stop spinning and we would have to relocate to another planet. I feel like a world without Gaga would be equivalent to most scenes in "The Matrix."
According to E! News, "…some enterprising cybercriminals have been spreading the following headline via Facebook: "BREAKING: Lady Gaga Found Dead in Hotel Room" along with a link to a BBC News story and a description reading "This is the most awful day in US history."
In reality, when people clicked the link, it guided you to a fake website with a video that was supposed to be the news story about Gaga's demise. When clicked on, it spammed your Facebook account with the same link in order to get your friends to visit the scam site.
These scammers are getting really clever! Hey – If I had seen it, I probably would have clicked it.
Have no fear Gaga disciples, your goddess is still breathing…she was at the Giants game getting crunk last night.
She's just being Miley (still funny)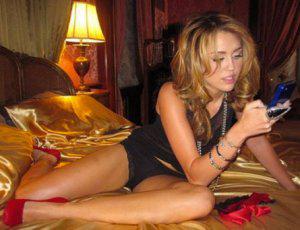 Photo Courtesy: crushable.com
Apparently Miley Cyrus has become another victim in the "I'm a celebrity and scandalous photos of me leaked onto the interweb."
I say apparently because of the way this scandalous photo looks (it's on your left). It appears to be professionally taken. Hannah Montana has great hair, great lighting, great pose and a nice background scene.
What I keep reading is that many people think the photo is sooo racy and that Miley may have leaked it herself because she felt left out/forgotten.
Whether or not this photo was leaked, stolen or given to the media by Miley herself, I don't see what the big deal is. She's 18 and is legally allowed to do whatever she wants.
If she wants photos taken of her texting while wearing intimate apparel and red high heels, go for it. You better do it while your young…shit only goes south with age.
R.E.M. is getting a divorce…everybody hurts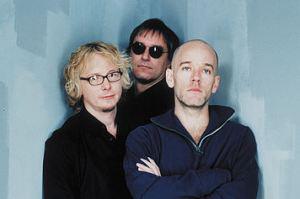 Photo Courtesy: photos.lucywho.com
Rock band R.E.M. announced (via their website) they are splitting up after 30 years of musical marriage. The band's joint statement revealed the following sad message:
"To our Fans and Friends: As R.E.M., and as lifelong friends and co-conspirators, we have decided to call it a day as a band. We walk away with a great sense of gratitude, of finality, and of astonishment at all we have accomplished. To anyone who ever felt touched by our music, our deepest thanks for listening."
Even though I only like/knew of two R.E.M. songs ("Losing My Religion" and "Everybody Hurts"), I was still slightly shocked that this iconic band is "calling it a day." After 15 albums and you're calling it a day…I feel slightly betrayed here!
What does that even mean, "calling it a day?" I always thought that this meant you've been working hard on something and your going home to binge eat SunChips or slumber, but you'll be back to work tomorrow!
So maybe, R.E.M. will pull a Jay-Z and say that they are "retiring" but release an album with Kanye West a few months down the road.