Jennifer Lopez…Man eater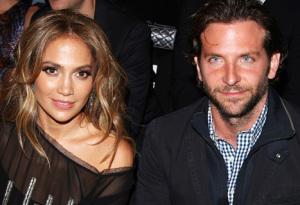 Photo Courtesy: usmagazine.com
After J.Lo and Marc Anthony generated the split heard around the world, I was expecting Jenny from Da Block to take some time to regroup. Well, I guess I was wrong…and I can't believe I just admitted that. Who is the new man she has sunk her talons into…Bradley Cooper!
A few days ago, J.Lo and Bradley had a nice dinner date at the classy Per Se in NYC! It must have been a real-life date because Jenny left the entourage and huge bodyguards at home.
According to the "New York Post," "One onlooker at the restaurant said, 'He waited 10 minutes for her to arrive, and she turned up in a white bandage dress looking ridiculously hot. They sat at a corner table smiling and chatting. It looked like they were heavily flirting. They left together out of a back door, so not to be seen."
Bradley's rep comented, "They were meeting for business regarding a project." Let's be real – J.Lo doesn't leave the entourage and/or bodyguards for anyone…
Jennifer – I thought we were past this "I'm going to date the hottest man in Hollywood right now" phase. Remember Ben? I do hope you are only stepping out on the town with B-Coop to show Marc what he's missing. If so, my respect level bumped up a few notches for you.
ScarJo's goodies hit the interweb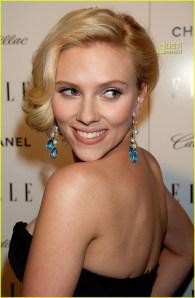 Photo Courtesy: justjared.buzznet.com
Welp, I guess nobody listened to Reese Witherspoon's advice that she so generously passed along at the MTV Movie Awards. Just as a quick reminder, Reese advised "…if you take naked pictures of yourself on your cell phone, you hide your face, people!" They still haven't learned.
Here's the deets, a hacker broke into Scarlett Johansson's cellular telephone and scored some naked pics of the starlet. These pictures reportedly show ScarJo topless and (according to MTV) "another shows her standing with a towel covering her front side with her butt exposed in a mirror."
Like any normal woman, Scarlett got pissed. Instead of just letting her nude pics spread around the web like wildfire, Scarlett kicked it up a notch and called the FBI. According to E! News, "The FBI is investigating a person or group responsible for a series of cyber intrusions of high-profile figures," FBI spokeswoman Laura Eimiller said. "This would include many devices — could mean a computer, desktop, laptop, iPad, cell phone … intrusions into personal online accounts too."
It's been reported today that ScarJo's legal team has sent out a bunch of nasty/threatening letters to websites posting the photos and ordered for the removal of ScarJo's goodies.
A lesson I learned today: Don't f*ck with Scarlett Johansson or she will call the feds.
Brad Pitt – What a d*ck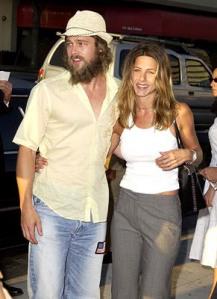 Photo Courtesy: atop10wallpaper.blogspot.com
After spending 7 years with Jennifer Aniston and then leaving her for every woman's arch nemesis (Angelina Jolie)…he has to go and do this!? In case you haven't heard, Brad Pitt sat down with "Parade" magazine and forgot his filter at the house that Angelina built.
Brad told "Parade," "It became very clear to me that I was intent on trying to find a movie about an interesting life, but I wasn't living an interesting life myself," Pitt told Parade about the final years of his relationship with Aniston, which ended in 2005. "I think that my marriage had something to do with it, trying to pretend the marriage was something that it wasn't."
When I first heard this, three words came to my mind…rage, rage, rage! Just when it looks like Jennifer is moving on with her new man Jason, Brad has to stick his nose in.
Since tons of people became outraged that Brad had the nerve to leave Jen in the first place and toss out such a hurtful comment, someone on his PR team made him release a statement saying otherwise.
Brad commented, "It grieves me that this was interpreted this way," wrote Pitt, reports Reuters. "Jen is an incredibly giving, loving, and hilarious woman who remains my friend. It is an important relationship I value greatly. The point I was trying to make is not that Jen was dull, but that I was becoming dull to myself — and that, I am responsible for."
Brad – She even stayed by your side when you had that creepy beard. Ugh. Whatever Brad…Team Jennifer for life.