Now that fall is almost over, you are seeing what is trending in fashion for the colder weather. Celebrities have access to all the "hot" new fashion and you will see them wearing both well known autumn designers, as well as those who are new on the fashion scene.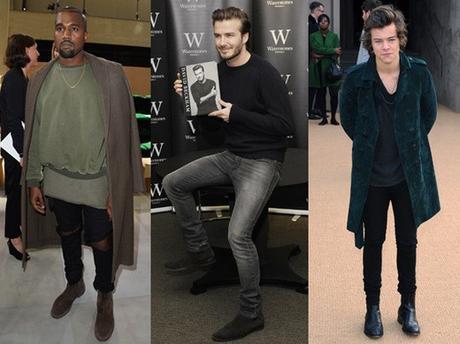 This particular "trio" of celebrity men all have their own styles, but you can see certain trends in their looks. Rapper Kanye West is sporting more of the slouchy, casual chic style with his rolled-up waist olive sweatshirt, black trousers that are distressed at the knees, taupe/grey lace-up suede boots, and a complimentary long overcoat to pull it all together. Soccer superstar David Beckham is posing for a photo op with his new book in a very fashionable minimalist look. David's simple black, long-sleeve t-shirt, his skinny grey distressed jeans, and grey leather boots make him look put together, without any frills. Last, but not least is Pop singer Harry Styles from the boy-band One Direction. Harry is definitely living up to his name with his dark teal suede trench coat with the shoulder epaulets and double-breasted closure. The trench is a coat that never goes out of style, and with this great teal suede fabric it brings it into 2015. Harry keeps the rest of his outfit simple with his monochromatic look of a dark shirt, slim dark pants, and black leather boots, which also lets the trench coat be the center of attention.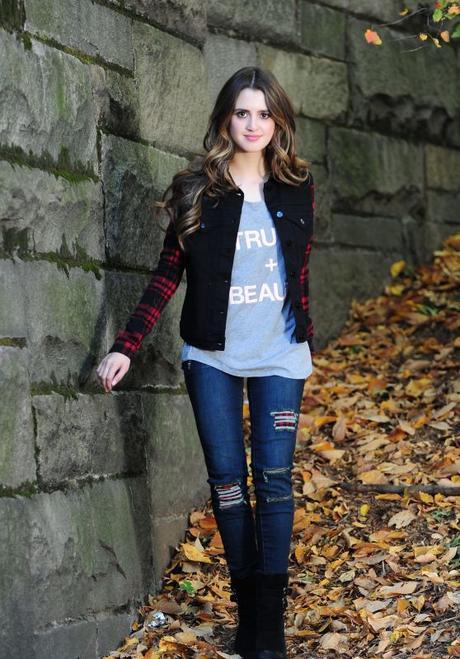 For the ladies, actress and singer Laura Marano is combining the worded graphic t-shirt with the new version of the jean jacket that has the same body, but adds sleeves done in a fabulous fleecy plaid fabric for a modern twist. Laura is also sporting the shredded jean look and finishes off the look with a pair of mid-calf black suede boots.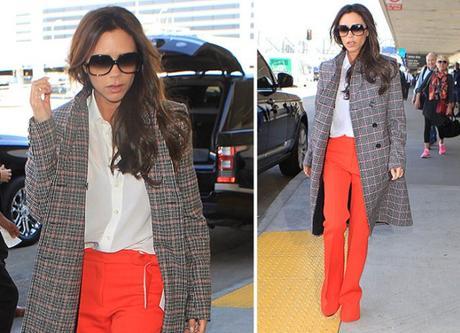 Fashion icon and former "Spice Girl" Victoria Beckham is the polar opposite of husband David is her grey plaid overcoat with hints of red, white button-down blouse, and neon red creased trousers. I am curious what Victoria is wearing for shoes and how she can possibly manage not to trip over the length of her pants.