On June 2, 2014 the Council of Fashion Designers of America Awards ceremony was held at the Lincoln Center in NYC.  This event is one of the most important nights in the fashion world.  The group's president Diane Von Furstenberg is a world class designer in her own right.  This year's honors featured Public School's Maxwell Osborne and Dao-Vi Chow for the Menswear Designers of the Year, Joseph Altuzarra for the Womenswear  Designer of the Year, and Mary-Kate and Ashley Olsen for the Accessory Designers of the Year.  Also, the Geoffrey Beene Lifetime Achievement Award in Fashion went to well-known designer Tom Ford.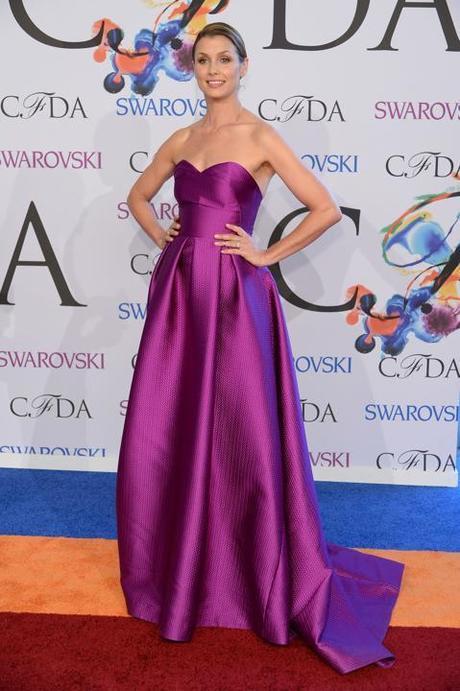 As at every event, there are red carpet arrivals that "wow" and those that do not.  One of the wows at the CFDA Awards was Bridget Moynahan from the hit TV show Blue Bloods.  She looked absolutely regal in this gorgeous, radiant orchid gown by Lela Rose.  The strapless top and fitted bodice, along with the pleated waistline was the perfect "princess" look in this satiny creation.  Bridget also keeps the focus on the dress with no necklace or bracelet, just some dangle earrings and a few rings.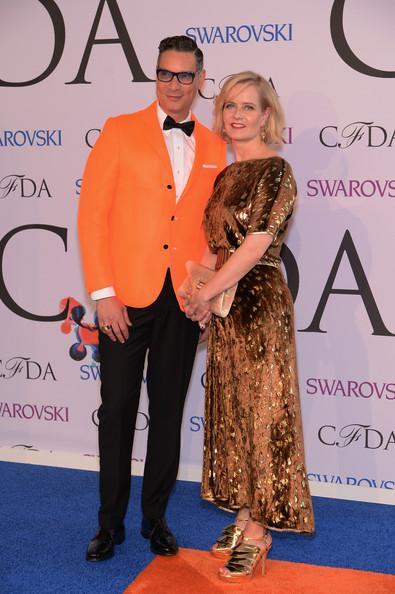 Next, is the twosome of Jewelry Designer Kara Ross and her red carpet partner.  She is wearing a conservative brown maxi-dress in a shimmery brown and gold fabric, but her red carpet mate is sure to stand out in this electric orange suit jacket that is accented by black bottoms, a crisp white shirt, and black tie.  It kind of reminds me of a creamsicle!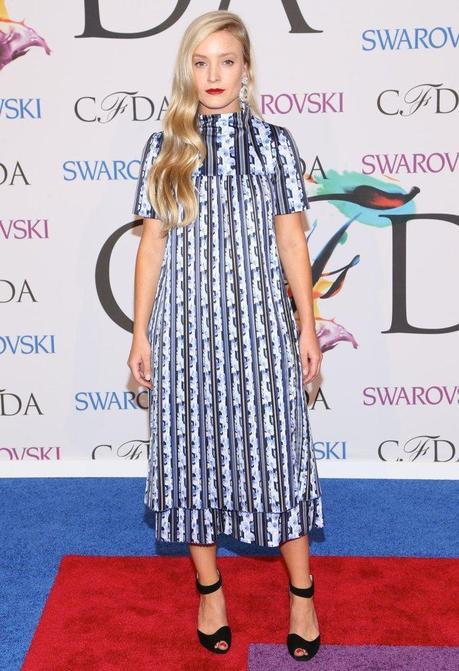 One outfit that made the not so wow category was worn by Kate Foley at the CDFA Awards.  It was a formless midi-dress done in blue and black geometric striping.  The high, mock- neck collar, shapeless bodice, and layered frill at the bottom makes me think more of "granny" than an attractive woman.  However, I do like the black ankle strap sandals and the dangle earrings.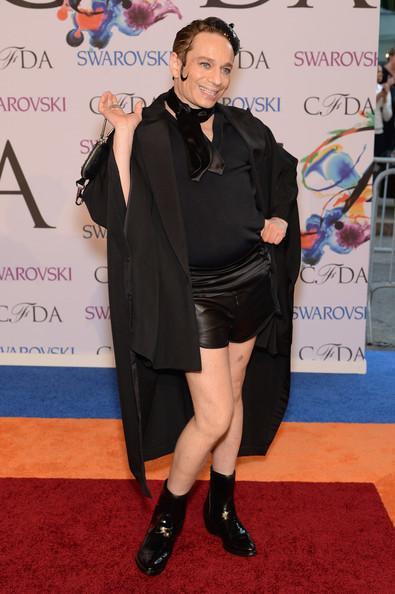 The last red carpet arrival in the "OMG" category was Actor/Comedian Chris Kattan who was wearing black short-shorts, a multi-layered black cape, shiny patent leather boots, and a black ascot.  He looked like Dracula that fell out of the 1970's. Sorry Chris, but you don't have the legs for that outfit!