Being a celebrity, means that you are always in the public eye. Whether they are walking the red carpet, strolling to their favorite coffee shop, or arriving at their new movie premier, chances are their image will show up in a photo. Some of the photos taken will be flattering and some, not so much.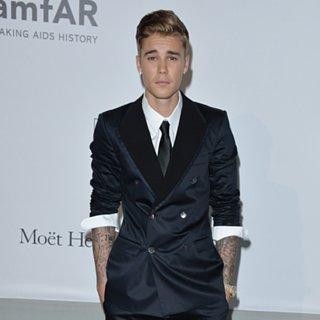 The first musical celebrity that I have to review is Justin Beber. Lately, the only photos that we have seen of him have been mug shots, but this one of him at an AIDS benefit shows a classy young man in his double breasted dark suit with wide lapels and contrasting, stark white button-down shirt. The pushed up sleeves of Justin's suit jacket and the rolled up cuffs of the dress shirt keep his look hip and allow him to show off the ink on his forearms.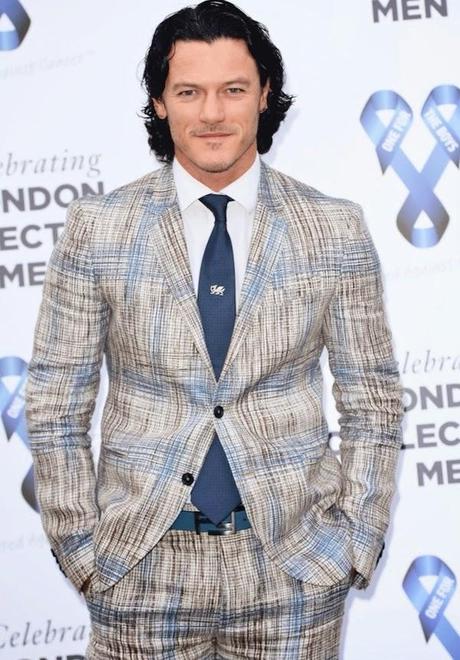 On the opposite end of classy spectrum, unfortunately, is Welsh Actor/Singer Luke Evans. I am usually a fan of plaid suits, but this Fendi blue/grey abstract plaid suit that Luke wore to the One for the Boys Charity Ball in London is not a favorite. The abstract, scratchy design plaid makes him look like he is hiding multiple "spare tires" around his waist. It would look a little less overwhelming if Luke took the trousers and paired it with a solid grey/taupe colored jacket, while keeping the shirt and tie as is.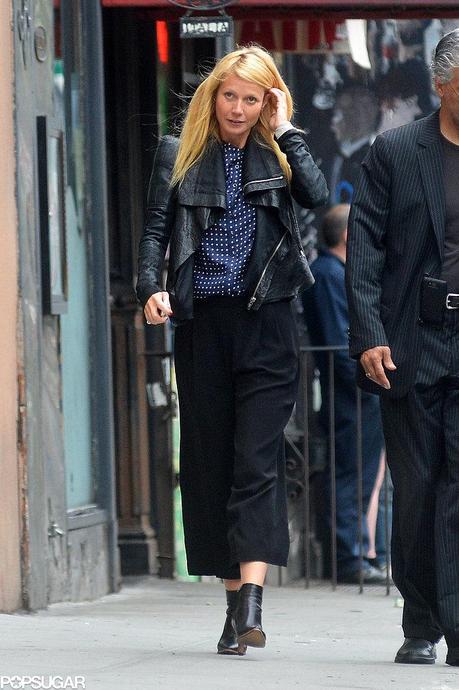 One woman who finds it hard to escape the photographers is actress Gwyneth Paltro, who was seen out and about the streets of NYC. Unfortunately, she is hiding her good looks in this outfit with a baggy navy, polka dot blouse and a pair of wide-leg, black ankle pants. The blouse has no definition and the pants make her legs look short. I do like Gwyneth's black leather jacket with the cascading front and her matching ankle boots.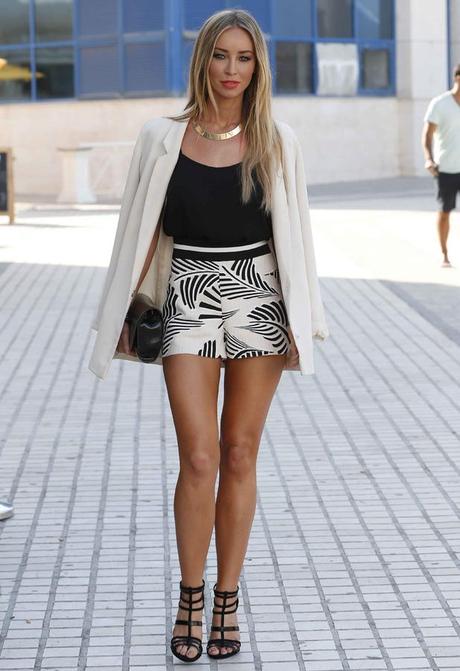 Last, but not least, is English TV Personality/Model Lauren Pope. She is pictured here strolling the streets of Marbella, Spain. Lauren looks stunning in her black bloussant top with leaf print, high-waisted shorts. The outfit is accented perfectly by her strappy black leather sandals, beige suit jacket, and black leather clutch.