Betty White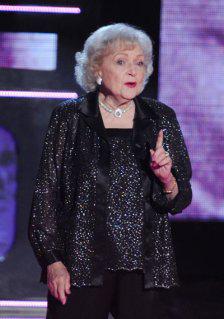 Photo Courtesy: mtv.com
This beauty is a living legend…you can look but don't touch. No really, she'll probably kick your ass.
Since Betty has been actively acting since 1949, my memory is a little fuzzy on that portion of her life…so I'll stick with the past few years.
Betty White has been killing it. She is currently starring on the sitcom "Hot in Cleveland" and if I do say so myself, she is the hottest lady on the show.
Along with her sitcom, she was a write-in candidate to host SNL. Over 300,000 fans joined a Facebook campaign called "Betty White to Host SNL (please?)!"  The fans won and Betty did a great/hilarious job as host. They even scheduled a suitable musical guest to go along with her personality…Jay-Z (Hova).
Betty is also adding politics to her busy schedule. How you ask? By throwing her hat into the presidential campaign ring. I don't even need to hear a peep out of her…she's my national treasure! Vote Betty!
The Betty White ensemble is extremely easy to put together and quite comfortable. The particular look I'm suggesting consists of:
Black trousers with elastic band.
Black but sparkly undershirt and long sleeve shirt to keep the chill out. Easily found at Macy's.
A touch of ruby red lipstick.
Slap on a shiny necklace.
Don't forget to get your hair did. Ask for the Betty…any hairstylist will know what you mean.
If you choose to dress up as Betty White for Halloween…I guarantee that your milkshake will bring all the boys to the yard.
So that concludes my Halloween costume advice. I will leave you with one thought…In the words of Lindsay Lohan, "In Girl World, Halloween is the one night a year when a girl can dress up like a total slut and no other girls can say anything about it." Ladies, take advantage of it.