DJ Pauly D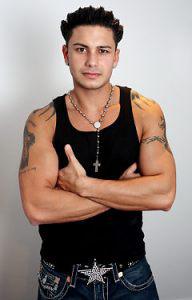 Photo Courtesy: articles.nydailynews.com
Whenever I hear Pauly D's full name (DJ Pauly D), three phrases come to mind:
"Being a guido is a way of life"
Pauly D is one of those guys that loves to party and doesn't let Jersey Shore drama stop him from doing his thing. Not only is he a bitchin a DJ, he is a beautiful young guido.
I feel this Halloween, it's Pauly's time to shine. I chose Pauly D as a possible costume choice for two reasons. 1. Because everyone and their mother dressed up as Snooki last year. 2. The Blowout.
For those that are in the dark…a blowout is a "hair style of choice for the guido, it usually involves short/shaved sideburns and sides with a large amount of hair on the top, usually spiked so that the wearer looks like they've been electrocuted." Thank you Urbandictionary.com.
To embodied DJ Pauly D, you only need a few things:
An extremely tight tank top, preferably black.
Rosary beads…can be found at any religious store or on any dude that looks like Jesus.
Very large tattoos all over your body…found at any tattoo parlor.
A large sparkling belt with a star as the buckle…found at Marshalls in the children's section.
Some very expensive jeans…preferably with an exotic animal on the tag or ass of the pants.
The final and most important part of the DJ Pauly D costume is the blowout. I recommend a hair dryer that will potentially shoot flames and 30 bottles of hair gel. Below is the official DJ Pauly D step-by-step blowout tutorial…Thank God!